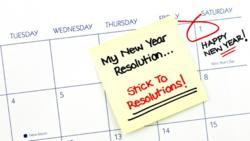 Individuals who explicitly make New Year resolutions are 10 times more likely to achieve those goals.
Austin, TX (PRWEB) June 11, 2013
Individuals who explicitly make New Year resolutions are 10 times more likely to achieve those goals which is why B>U is declaring June as the "New Year Resolution Review Month". Inspirational brand and website B>U challenges all individuals to evaluate their progress regarding their New Year resolutions made six months ago at the beginning of the year.
New Year resolutions are the talk of the media, at the office and dinner table for that first week of January but those conversations become non-existent before the end of the month for most people.
B>U declares June as the month where individuals assess the progress of their New Year resolutions half way through the year. B>U's premise to become greater than yourself one small step at a time fits the role of asking the tough questions regarding follow through on those ambitious New Year resolutions.
According to Statistic Brain, only 8% of those people who make New Year resolutions achieve them and 25% of those who make New Year resolutions abandon them after one week. By June, more than half of those who made their New Year resolution have quit pursuing them. Statistics also show that 24% of people never achieve their New Year resolutions through their lifetime.
B>U posts inspirational stories, tips and quotes on their website and Facebook page to remind individuals to continually pursue their dreams. Now they are using the half point of the year to call people on their progress on those goals they made in January.
"B>U takes the New Year resolution concept very seriously which is why we are declaring June as the time to assess your progress. And if you haven't been living up to those goals then forgive yourself and get back on track to make those resolutions a reality. It's never too late," states B>U Founder, Matt Evans.
About B>U:
BGreaterThanU.com offers lifestyle tips, motivational quotes and inspirational stories about individuals being greater than themselves for a better world. For more information, go to BGreaterThanU.com.