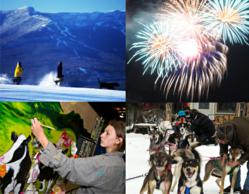 Whether you seek snowy solace or a dance floor full of noise-makers, Vermont's got the countdown to '13 covered.
MONTPELIER, Vt. (PRWEB) December 13, 2012
13. Fireworks & Torchlight Parade:
Carrying flaming torches, Stowe Mountain Resort patrollers ski down the face of the mountain. Enjoy the beauty of Mount Mansfield as it comes alive with a spectacle of lights. StoweMountainLodge.com
12. New Year's Eve Road Race:
Ring in the New Year? How about…Run in the New Year! This festive 5K race is in Vermont's capital, Montpelier. Cvrunners.org
11. Learn to Firewalk this New Year's Eve:
All are welcome to Spirit Hollow's fourth annual firewalk in North Bennington. No experience or desire to walk the fire is necessary. Space is limited, but overnight accommodations are available in the yurt. http://www.spirithollow.org
10. A Grateful Dead Inspired Throw-down:
Celebrate the New Year with the music of Grateful Dead; JATOBA and Hot Day At The Zoo perform in their annual New Year's Eve throw-down at The Stone Church in downtown Brattleboro.
9. Laugh in the New Year:
Funny hats, funnier comedians. Ring in the New Year with a dinner buffet, DJ, dancing, champagne and comedy at the Hampton Inn New Years Eve Comedy Celebration.
8. Okemo's Family New Year's Eve:
Enjoy evening ice skating, snowtubing, snowshoeing, mountain coaster rides, horse-drawn wagon rides, and a trivia tournament; plus, families can ring in the New Year early with a DJ dance party - and still get to bed in time for a big day of skiing the next day. Okemo.com
7. New Year's Eve Dinner at New England Culinary Institute:
NECI starts the evening with a champagne reception followed by a multi-course dinner with wine pairings and hand-crafted desserts. Reserve at Necidining.com
6. First Night St. Johnsbury:
Be entertained by 70 artists, exhibits and performances during the 20th annual First Night. Firstnightstj.com
5. Midnight Meditation:
The Karme Choling Shambala Meditation Center in the Northeast Kingdom hosts a multi-day retreat leading up to the New Year's Eve Soirée with festivities and dancing. At midnight, welcome the New Year with meditation and contemplation in the Main Shrine Room. http://www.karmecholing.org
4. First Night Burlington:
Vermont's largest, single-day arts festival, providing 110 performances and activities at 20 venues. Fun for all ages, Burlington was the fifth city in the world to embrace the First Night concept. http://www.FirstNightBurlington.com
3. Stay Classy, Vermont:
This New Year's Eve Classical Concert in Manchester features classical and pop music by Vivaldi, Strauss, Oscar Peterson, Lennon-McCartney, Mendelssohn, and popular standards. Chocolates and family-friendly bubbly will be served.
2. A Peaceful Snowshoe:
Grab warm clothes and winter gear to snowshoe up Mountain Philo! Few outings are as romantic as a thermos of hot chai, maple crème cookies and watching the stars above, the glittering lights and lake below, and if timed right, fireworks over Burlington. http://www.vtstateparks.com
1. New Year's Eve Goes to the Dogs?
Yes! At Montgomery Adventures, you can howl in 2013 with a night of dog sledding, moonlight snowshoeing, a bonfire and a champagne toast at midnight. Please note, the dogs kindly request reservations. http://www.montgomeryadventures.com

- Further details and event websites are available here.
Happy New Year!