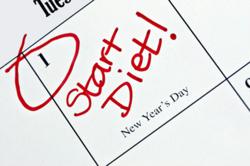 Why wouldn't you want to diet like a celebrity?
Fort Washington, PA (PRWEB) December 28, 2012
More than half (54%) of Americans plan to include losing weight as a New Year's resolution, but less than half (45%) of those making this pledge are "very confident" or "confident" they will be able to keep it, according to newly released results from a survey conducted online by Harris Interactive on behalf of Nutrisystem in early December. Weight loss continues to be one of the most popular resolutions made in the New Year, but while there's clearly the will to lose weight, most find the way difficult to navigate successfully.
The backdrop of a celebrity-culture can make the pressure to lose weight even more intense. While many Americans may dream of celebrity lifestyles, complete with chefs and personal trainers,, the reality is most people have to be practical in their approach. The good news is there are ways to replicate the convenience, personalization and efficacy of celebrity weight loss tactics without breaking the bank. In fact, it can be done on a fiscal-cliff-like budget starting at less than $8 a day.
High-end celebrity weight loss programs for 2013, might include:

A dietitian designed menu ensuring advanced, balanced nutrition without hunger while losing weight;
Customizable menu combinations, so dieters can eat the foods they really love;
Chef prepared foods delivered right to the front door with virtually no preparation required;
A personalized workout training program;
A network of peers who inspire encourage and coach based on shared experiences; and
Advanced tools and trackers available on smartphones and computers to track progress.
Nutrisystem® (NASDAQ: NTRI), the leading provider of home-delivered weight loss meal plans, regularly delivers food to celebrities helping them to flaunt their red-carpet looks.
"If weight loss is one of your goals, why wouldn't you want to diet like a celebrity?" asks Mike Amburgey, Chief Marketing Officer of Nutrisystem. "Because of our expertise and scale, we're able to deliver the kind of premium value and proven, guaranteed results celebrities expect at an approachable price point for everyone."
Nutrisystem has spent years researching and refining its SUCCESS approach, which is designed to overcome the top roadblocks to healthy, sustained weight loss by offering a wide range of nutritionally balanced, high protein, high fiber, heart healthy, low GI, reasonably priced meals delivered right to customers' doors. And unlike so many diets that require expensive or complicated products and services be purchased on top of monthly food bills, with Nutrisystem, there are no membership fees and food is provided.
Weight Loss Hurdles
The survey, sponsored by Nutrisystem, also found that the factors which affect confidence in the ability to keep weight loss resolutions are willpower, lack of time, cost, not being sure what will work, and lack of support from others.
More than 3,000 adults were asked about their views on weight loss resolutions for the New Year. Among the key findings:
More than half of adults -- 54% -- say they plan to make weight loss one of their New Year's resolutions.
Younger adults -- aged 18-44 -- are more likely to say they will make this resolution than older adults (59% vs. 49%); women are more likely than men (56% vs. 51%)
Just 45% of those who plan to make a weight loss resolution for the New Year say they are "confident" or "very confident" they will be able to stick with it; 42% said they are somewhat confident, and 12% aren't confident at all.
Men are more likely than women to feel confident about their ability to lose weight, with 50% saying they are confident or very confident, compared with 41% for women.
The survey also asked why those making a weight loss resolution might be unable to stick to it. Among the top reasons cited with solutions addressable by Nutrisystem:
Lack of willpower – 55% cited things like being unable to resist temptation or snacking.
Nutrisystem addresses this by providing more frequent, portion controlled meals, including snacks and desserts, so dieters are less likely to feel hungry or deprived, hence are less susceptible to temptation.
Lack of time -- 44% said not having enough time to either shop for healthy choices, cook and/or exercise affected their confidence.
Nutrisystem acknowledges the need for convenience by delivering customized choices of breakfasts, lunches and dinners and snacks right to consumer doorsteps. Preparation is fast and easy.
Lack of funds -- 37% cited the either the cost of healthier food options and/or a gym membership.
Consumers can access the most popular Nutrisystem program for less than $10 per day, which is less than most Americans spend daily on food according to multiple sources.

Lack of information -- 24% said either not knowing what will work and/or being confused about what to do.
Nutrisystem is guaranteed to work, based on proven science. It requires no weighing, measuring or meetings and comes with a clear, concise resource guide.
Lack of support -- 16% said not getting support from family, friends and others was a potential problem.
Nutrisystem's most popular programs give dieters unlimited access to phone counselors, an online community ad online tools to support resolutions and improve the overall experience. Nutrisystem's wide array of menu options include gourmet-style frozen dishes as well as easily storable pantry-ready choices for breakfast, lunch, dinner, snacks and dessert that can be eaten at home, in the office or on the road. The company also offers tailored plans for women, men, seniors, teens, and vegetarians, as well as the Nutrisystem® D® for people who have diabetes or are at risk of diabetes.
Nutrisystem® meal plans offer the best of both worlds -- low fat and a low Glycemic Index -- in a unique combination. Nutrisystem customers surveyed reported losing 43% more weight than those surveyed who dieted on their own. Nutrisystem also offers free shipping with Auto-Delivery orders in the Continental U.S. and a 14-day money-back guarantee on all initial28-day orders. Members have access to registered dietitians, weight loss counselors and certified diabetes educators for continued support.
To find out more information about Nutrisystem for the New Year and to order today, click here or call 1-888-841-2572.
Survey Methodology
This survey was conducted online within the United States by Harris Interactive on behalf of Nutrisystem from December 7-11, 2012 among 3,036 adults ages 18 and older. This online survey is not based on a probability sample and therefore no estimate of theoretical sampling error can be calculated. For complete survey methodology, including weighting variables, please contact Nutrisystem.
About Nutrisystem
Having helped Americans lose millions of pounds over the last 40 years, Nutrisystem, Inc. (NASDAQ: NTRI) develops evidence-based programs for healthy weight management, and is the leading provider of home-delivered weight loss meal plans. Nutrisystem offers balanced nutrition in the form of low glycemic index meal plans designed for men and women, including seniors, vegetarians and the Nutrisystem® D® program for people with diabetes or at risk for type 2 diabetes. Nutrisystem® plans include a wide variety of pantry and fresh-frozen entrees and snacks to aid in program satisfaction and adherence, as well as transition plans to support long-term success. The Fort Washington, PA-based company also provides weight management support and counseling by trained weight-loss coaches and registered dietitians, as well as through an engaged online community, online tools and trackers, mobile apps, cookbooks and more. Healthcare professionals may learn more about the programs by visiting http://www.nutrisystem.com/hcp. The Company has also introduced a new in-store retail line, Nutrisystem® Everyday® products, comprised of nutritionally balanced bars, smoothies, bakery and breakfast items aimed at consumers who aspire to eat healthier.
About Harris Interactive
Harris Interactive is one of the world's leading market research firms, leveraging research, technology, and business acumen to transform relevant insight into actionable foresight. Known widely for the Harris Poll® and for pioneering innovative research methodologies, Harris offers proprietary solutions in the areas of market and customer insight, corporate brand and reputation strategy, and marketing, advertising, public relations and communications research. Harris possesses expertise in a wide range of industries including health care, technology, public affairs, energy, telecommunications, financial services, insurance, media, retail, restaurant, and consumer package goods. Additionally, Harris has a portfolio of multi-client offerings that complement our custom solutions while maximizing our client's research investment. Serving clients in more than 196 countries and territories through our North American and European offices, Harris specializes in delivering research solutions that help us - and our clients—stay ahead of what's next. For more information, please visit http://www.harrisinteractive.com.