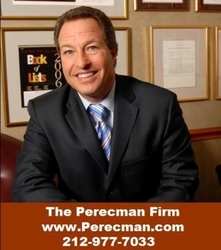 New York, NY (PRWEB) February 16, 2010
Residents of a luxury Manhattan apartment building are rightfully concerned about their health say New York construction accident attorneys. A construction news report shows that dust in their apartments has higher levels of a carcinogen than what was found at Ground Zero.
The dust, which covered the inside of some apartments like "snow", was the result of careless construction work performed on the building's facade. The toxic substance in the dust is called crystalline silica.
Toxic dust is not unique to New York. However, Manhattan construction accident attorneys know that overexposure to respirable crystalline silica can cause silicosis, a disabling, nonreversible and sometimes fatal lung disease.
An environmental testing-company, Microecologies Inc., reportedly found "highly elevated levels" of the carcinogenic dust in one tenant's apartment last May, according to the New York Post. The resident claims that the dust caused him to experience breathing trouble and eye irritation.
Building management has denied any wrongdoing.
"It will be important to ascertain if the building allowed its residents to go into an unsafe environment," said New York construction accident attorney David Perecman.
About David Perecman and The Perecman Firm, PLLC:
For the past 30 years, the New York construction accident attorneys, auto accident, personal injury, construction accident, and medical malpractice attorneys at The Perecman Firm, PLLC have championed all types of cases for personal injury accidents. David Perecman, founder of the Firm, is a Board Director and the past Secretary and Treasurer of the New York State Trial Lawyers Association (NYSTLA) and a chair of its Labor Law Committee. Mr. Perecman's achievements have brought him recognition as an Honoree in the National Law Journal's Hall of Fame, in New York Magazine's "The Best Lawyers in America" and The New York Times Magazine "New York Super Lawyers, Metro Edition" for the years 2007-2010.
The Firm has recovered millions of dollars for its clients. Among the more recent victories, Mr. Perecman won a $15 million verdict* for a construction accident, a $5.35 million dollar verdict** for an automobile accident, and a $40 million dollar structured settlement for medical malpractice.
*later settled while on appeal for $7.940 million
** later settled for $3.5 million
"Lawyer Advertising"
"Prior results do not guarantee a similar outcome."
###