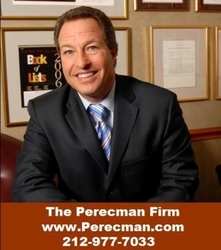 New York, NY (PRWEB) February 2, 2010
In an unfortunate accident spectacular enough to make the national news, a fuel truck flipped and exploded on New York's Long Island Expressway. Approximately 200 feet of road melted in the fire. The intense heat also melted the supports for a giant road sign, which collapsed across all 8 lanes, alerting New York injury lawyers.
The 57-year-old driver, a Brooklyn resident, was killed in the accident which occurred on Saturday.
New York personal injury lawyer David Perecman is quick to point out that this accident is as tragic as the many "unknown" accidents that happen every day.
"Approximately every 10 seconds of every day, lives are forever changed throughout the nation due to vehicular accidents," said Perecman.
Auto accidents happen so frequently, the majority of them aren't even newsworthy. However, friends and families of any accident victims can be left overwhelmed and in indescribable pain.
'It's the job of any New York personal injury lawyer to get spectacular claim for injury and loss suffered whether there are cameras on the scene or not," said Perecman.
About David Perecman and The Perecman Firm, PLLC:
For the past 30 years, the New York personal injury lawyers, auto accident, construction accident, and medical malpractice lawyers at The Perecman Firm, PLLC have championed all types of cases for personal injury accidents. David Perecman, founder of the Firm, is a Board Director and the past Secretary and Treasurer of the New York State Trial Lawyers Association (NYSTLA) and a chair of its Labor Law Committee. Mr. Perecman's achievements have brought him recognition as an Honoree in the National Law Journal's Hall of Fame, in New York Magazine's "The Best Lawyers in America" and The New York Times Magazine "New York Super Lawyers, Metro Edition" for the years 2007-2010.
The Firm has recovered millions of dollars for its clients. Among the more recent victories, Mr. Perecman won a $15 million verdict* for a construction accident, a $5.35 million dollar verdict** for an automobile accident, and a $40 million dollar structured settlement for medical malpractice.
*later settled while on appeal for $7.940 million
**later settled for $3.5 million
"Lawyer Advertising"
"Prior results do not guarantee a similar outcome."
###