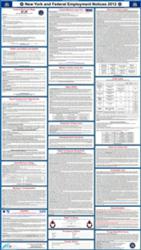 New York New Hire Reporting Post!
Los Angeles, California (PRWEB) December 02, 2011
State and Federal Poster Inc. has made updates for the several states including New York that has acquired a new employment regulation and update to their labor law posters.
Employers that are now submitting new hire reports in New York are to report whether dependent health insurance benefits are available and if the date employees certify for future health benefits. Under this new hire reporting requirement, employers must now report individual identification information about each newly hired or rehired employee working in New York State to the Department of Taxation and Finance. The penalties for failure of agreeing can be ranged from $20 to $450, multiplied by the number of incorrect reports filed and/or employees that were not reported.
###