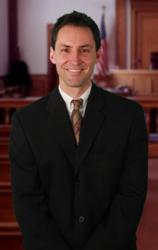 Naturally, we're excited at the prospect of expanding the reach of our practice even further.
(PRWEB) February 28, 2013
For years, the trial lawyers of Grossman Law Offices have represented clients in Texas, Arkansas, and in numerous Federal courts. Last Tuesday marks a new chapter in the firm's history as firm founder Michael Grossman was admitted to practice in New York. "Naturally, we're excited at the prospect of expanding the reach of our practice even further," attorney Grossman states on the firm's Facebook page.
Having carved out a niche market in the legal industry with their aggressive approach to litigating truck accidents and liquor liability cases, Grossman Law Offices has made a name for themselves in Texas. In 2010, the firm expanded its practice to Arkansas. The new expansion to New York represents what they call their, "commitment to go where people need the most help." New York State is certainly not wanting for attorneys, but Michael Grossman feels that his brand of litigation strategy and streamlined approach to pursuing corporate defendants will offer New Yorkers a viable alternative to their local choice of counsel.
"The simple fact of the matter is that Texas leads the nation in trucking accidents and drunken driving accidents. As such, my firm wins more of these cases in a year than many New York firms do in a decade, and I think that prospective clients will appreciate having the option to hire an attorney with that degree of experience."
Mr. Grossman is a member of the Multi-Million Dollar Advocates Forum, the Texas Trial Lawyers Association, the American Trial Lawyers Association, and is a member in good standing with the State Bar of Texas and the Arkansas Bar Association.
Grossman Law Offices is a personal injury law firm with principal offices in Dallas, Texas. Contact Michael Grossman and the attorneys at Grossman Law Offices by calling 1-855-326-0000 (toll-free), or at 12240 Inwood Rd #500, Dallas, Texas 75244.