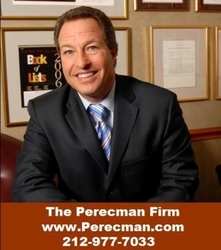 Prior results do not guarantee a similar outcome.
New York, NY (PRWEB) August 3, 2009
Last Wednesday, 15-year-old Alexa Longueira of Staten Island, New York suffered some scrapes and bruises after she suddenly fell six feet through an open sidewalk manhole - and into raw sewage - while she was walking and texting. Though the fall left her with only minor injuries, her parents are still intending to file a personal injury claim because the manhole was left unattended and uncovered, according to the New York Daily News.
"There have been many articles reporting the dangers of driving while using a cell phone or text messaging. Now it seems people need to be worried about texting while walking," says New York personal injury attorney David Perecman, who notes that he believes the open, unguarded manhole is more to blame for this particular personal injury than the texting.
Motor vehicle accidents caused by the distraction of texting helped New York's lawmakers in Albany gain the support they needed to pass a ban that deters drivers from using any electronic devices - including iPods - while behind the wheel of a moving vehicle. The law will go into effect in November and violators can be fined up to $150. Many other New York counties and at least 14 states and the District of Columbia have banned texting while driving.
At the current time, no legislation bans walking while texting. However, in 2007, New York State Senator Carl Kruger of Brooklyn, New York proposed a bil l that would prohibit crossing the street while using electronic devices in New York, after a man who was listening to music on his iPod, walked off the curb, and into the path of a bus while crossing a busy intersection in Brooklyn. The man was killed instantly.
As reported by Mobile Marketer, over 3.5 billion text messages are sent each day in the US - adding up to almost 1 trillion test messages in 2008.
Walking while texting in New York and elsewhere has become such a concern that The American College of Emergency Physicians has issued a warning that texting while walking, driving, biking, or rollerblading, can result in serious injury or even death. Many of these serious injuries occur when people who are busy texting collide with individuals like skaters and cyclists.
According to New York personal injury attorneys, most pedestrian fatalities are still mostly caused by jaywalking or drivers failing to follow traffic laws.
"Any rising, dangerous trend is worrisome. The best we can tell our young people right now is to use common sense. What personal injury attorneys don't want to see is a rash of injuries, claims and deaths before people take notice about just how serious this problem is," says Perecman.
About David Perecman and The Perecman Firm, PLLC:
For the past 25 years, the New York personal injury attorneys, construction accident, auto accident and medical malpractice attorneys at The Perecman Firm, PLLC have championed all types of cases for personal injury. David Perecman, founder of the Firm, is the past Secretary of the New York State Trial Lawyers Association (NYSTLA) and a chair of its Labor Law Committee. Mr. Perecman's achievements have brought him recognition as an Honoree in the National Law Journal's Hall of Fame, in New York Magazine's "The Best Lawyers in America" and The New York Times Magazine "New York Super Lawyers, Metro Edition".
The Firm has recovered millions of dollars for its clients. Among the more recent victories, Mr. Perecman won a $15 million verdict* for a construction accident, a $5.35 million dollar verdict** for an automobile accident, and a $40 million dollar structured settlement for medical malpractice.
*later settled while on appeal for $7.940 million
** later settled for $3.5 million
"Lawyer Advertising"
"Prior results do not guarantee a similar outcome."
###