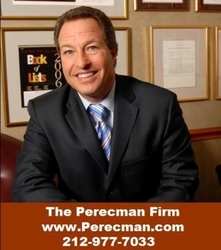 NEW YORK, NY (PRWEB) May 10, 2010
Getting through medical school takes a lot of intelligence and hard work, but practical sense is not always a guarantee. New York medical malpractice lawyer David Perecman considers the recent news on Dr. Lishan Wang.
Wang is a doctor suspected of killing a former colleague, Dr. Valjinder Toor, and shooting at Toor's six months pregnant wife. After his arrest, officers found Wang had documents on two other people he most likely held grudges against, 1,000 rounds of ammunition, a wig, a knife, three loaded guns and some photographs, as reported by the New York Daily News and other news sources.
Wang knew Noor from Brooklyn's Kingsbrook Jewish Medical Center. Dr. Wang was a resident and Noor was the hospital's chief resident. After confrontations with Toor and other colleagues, Wang was dismissed over two years ago from the hospital in New York. Medical malpractice lawsuits are more common for doctors with tempers.
A survey of health care workers at 102 nonprofit hospitals from 2004 to 2007 found that 67 percent of respondents believed that disruptive behavior and medical mistakes were linked according to The New York Times.
The idea that Wang was a doctor and had emotional problems is not lost on some New Yorkers including medical malpractice lawyer Perecman. In fact, in a report on [1010 WINS, it was said that the hospital would have allowed Wang to stay if he took a disability leave for mental impairment. Apparently Wang was already labeled emotional, excitable, and unable to control his anger.
"New York medical malpractice," said lawyer Perecman, "wasn't an issue in this tragic case. But, the fact is, this man could have been dealing with patients. He could have been dealing with important research that would have affected the health and lives of patients. He had passed medical school and was, indeed, a doctor."
David Perecman and The Perecman Firm, PLLC:
For the past 30 years, the New York medical malpractice lawyers, personal injury, construction accident, and auto accident lawyers at The Perecman Firm, PLLC have championed all types of cases for victims of auto accidents and their families. David Perecman, founder of the Firm, is a Board Director and the past Secretary and Treasurer of the New York State Trial Lawyers Association (NYSTLA) and a chair of its Labor Law Committee. Mr. Perecman's achievements have brought him recognition as an Honoree in the National Law Journal's Hall of Fame, in New York Magazine's "The Best Lawyers in America" and The New York Times Magazine "New York Super Lawyers, Metro Edition" for the years 2007-2010.
The Firm has recovered millions of dollars for its clients. Among the more recent victories, Mr. Perecman won a $15 million verdict* for a construction accident, a $5.35 million dollar verdict** for an automobile accident, and a $40 million dollar structured settlement for medical malpractice.
*later settled while on appeal for $7.940 million
** later settled for $3.5 million
"Lawyer Advertising"
"Prior results do not guarantee a similar outcome."
###