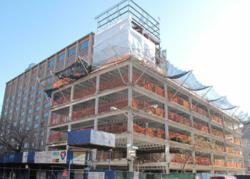 New York City, NY (PRWEB) June 17, 2011
Under a $180 million modernization project, the upcoming renovated and expanded Gouverneur Healthcare Services building at 227 Madison Avenue is moving towards a rapid completion. Coming in on schedule and under budget, the existing 35 year old building is on target to open for business in 2012 as a fully functional local healthcare facility. The project is part of an ambitious five year $1.2 billion capital investment plan to renovate and upgrade all of New York City's Health and Hospital Corporation's facilities and improve the quality of healthcare services for all New Yorkers.
Incorporating over 30,000 square feet of space, the new Ambulatory Care Pavilion and Atrium, also known as "The Center for Community Health and Wellness" is expected to serve close to 350,000 outpatients annually. This facility will incorporate a full spectrum ambulatory surgery center which was previously non-existent in this neighborhood and a dialysis center. It will also include a much needed Women & Children's Center. As a further expansion of previously non-available services, patients will also be able to receive CT Scans on site without having to travel further afield.
But one of the more exciting aspects of this project is the soon to be realized opening of "The Residence at Gouverneur Court". This new, state-of-the-art, long term care nursing facility will offer an additional 85 beds to accommodate the aging population of Asian Americans and Latin Americans from surrounding communities. This new residence has been designed to create a sense of warmth and a "home away from home" environment within its luxury apartment type building which will include communal dining areas, private rooms, suites and recreational areas.
Many local government agencies pushed hard to achieve this goal of a new expanded and modernized healthcare center for the lower east side, noting that Gouverneur has been the main caregiver of the local community for more than a century, opening its arms to the poor, the uninsured and those who did not want to leave the familiarity of their surroundings.
"This modernization project's design will be warm and inviting, even as it enhances patient safety, enables greater efficiency and provides state-of-the-art technology," stated Health and Hospitals Corporation President, Alan D. Aviles.
Gouverneur's Executive Director, Mendel Hagler was also quoted as saying "I am pleased that so many people in HHC and in the City share our vision for a premier healthcare facility in Lower Manhattan. When it is complete, our patients and residents will be able to receive the best care possible in a modern, patient-centered setting, and our wonderful staff will have the best resources to provide care in a state-of-the-art facility."
As the Project Manager, The Dormitory Authority of the State of New York (also known as DASNY), is in charge of awarding vendor contracts for the outfitting of this venture. Part of that contract was for Exam and Resident's Rooms' furniture that needed to meet several criteria, including but not limited to functionality, durability and aesthetics. Winning out over several other vendors, Modern Office Systems, LLC was awarded the contract to furnish 300 Exam Rooms and 150 Resident's Rooms with state-of-the-art modular casework furniture that accomplished these goals and more. Modern Office Systems, LLC was also awarded the installation portion of this contract.
###