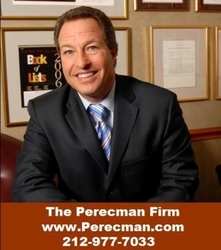 New York, NY (PRWEB) February 1, 2010
A report on pedestrian accident statistics released by Elmhurst Hospital Center shows that the number of people struck by vehicles in some central and western sections of Queens is on rise. The report is being analyzed by New York personal injury attorneys to help their clients.
Among the highlights:

Last year, the number of people treated at the hospital for a pedestrian injury was the highest in almost a decade.
In 2009, 256 people were treated at the hospital for a pedestrian injury. This means a jump of 16 people over the 2008 total, and 41 more injured pedestrians than the hospital admitted in 2007.
Pedestrian injury is the top injury mechanism that brought patients into Elmhurst Hospital Center during 2008 and 2009.
Vehicles striking pedestrians caused more than 30% of the injuries seen at Elmhurst Hospital, whereas the incidence ranges from 9-25% in other parts of New York City
7% of the Elmhurst Hospital pedestrian injury study patients died from their injuries.
The average length of stay for the survivors was 10 days. New York personal injury attorneys recognize the great hardship this length of stay could be for victims and their families.
Officials have taken the statistics on pedestrian accidents into consideration and are taking the appropriate measures to make the city's streets safer. In an effort, to reverse the rise in injuries, medical, transportation and law enforcement experts from all around New York City will meet with the community in an effort to create solutions to ease the problem.
Numbers from 2008 reveal the majority of crashes centered around a few locations, including Queens Blvd. and 63rd Drive, Roosevelt Ave. near 64th and 69th Sts. and Northern Blvd., near the Brooklyn-Queens Expressway in New York. Personal injury lawyers find this fact to be of significant importance.
Surprising to researchers who compiled the report in New York, and personal injury attorneys alike, the majority of accident victims were adults 19 to 64. Greater numbers of injured children and elderly people were expected.
"People of all ages need to be made more aware of traffic dangers. Pedestrian injury is a significant problem, and everyone must practice safety in the streets - walkers and drivers," said David Perecman, an experienced New York personal injury attorney. "My firm's attorneys look forward to seeing what solutions the city comes up with."
About David Perecman and The Perecman Firm, PLLC:
For the past 30 years, the New York personal injury attorneys, auto accident, construction accident, and medical malpractice attorneys at The Perecman Firm, PLLC have championed all types of cases for personal injury accidents. David Perecman, founder of the Firm, is a Board Director and the past Secretary and Treasurer of the New York State Trial Lawyers Association (NYSTLA) and a chair of its Labor Law Committee. Mr. Perecman's achievements have brought him recognition as an Honoree in the National Law Journal's Hall of Fame, in New York Magazine's "The Best Lawyers in America" and The New York Times Magazine "New York Super Lawyers, Metro Edition" for the years 2007-2010.
The Firm has recovered millions of dollars for its clients. Among the more recent victories, Mr. Perecman won a $15 million verdict* for a construction accident, a $5.35 million dollar verdict** for an automobile accident, and a $40 million dollar structured settlement for medical malpractice.
*later settled while on appeal for $7.940 million
** later settled for $3.5 million
"Lawyer Advertising"
"Prior results do not guarantee a similar outcome."
# # #