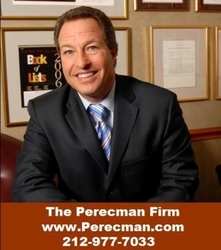 New York (PRWEB) March 4, 2010
On February 20, officials confirmed that human error was to blame for an ambulance that was sent to the wrong address. The passenger to-be, a 6-year-old, died while waiting for the ambulance. New York personal injury attorneys are saddened, but not surprised by this report.
The boy's mother had called 911, but she was too upset to provide her exact cross streets. A 911 dispatcher hit the wrong key and sent paramedics to Brooklyn's Avenue C, instead of Manhattan's Avenue C. The emergency crew, after arriving at the wrong address, quickly realized the error. Less than twenty minutes after the original call, they arrived at the correct home, but by then, the boy was dead.
The New York Daily News reports that it was unclear if the boy could have been saved.
Regardless of the health of the boy, officials and attorneys in New York agree that the operator was to blame in this situation, which means wrongful death lawsuits may follow. The call system technology had been blamed for several fatal mis-dispatches in the past.
'Families can sue for 911 errors. In this case, a 911 operator failed to do their job," says David Perecman, a personal injury attorney in New York.
About David Perecman and The Perecman Firm, PLLC:
For the past 30 years, the New York personal injury attorneys, auto accident, construction accident, and medical malpractice attorneys at The Perecman Firm, PLLC have championed all types of cases for personal injury accidents. David Perecman, founder of the Firm, is a Board Director and the past Secretary and Treasurer of the New York State Trial Lawyers Association (NYSTLA) and a chair of its Labor Law Committee. Mr. Perecman's achievements have brought him recognition as an Honoree in the National Law Journal's Hall of Fame, in New York Magazine's "The Best Lawyers in America" and The New York Times Magazine "New York Super Lawyers, Metro Edition" for the years 2007-2010.
The Firm has recovered millions of dollars for its clients. Among the more recent victories, Mr. Perecman won a $15 million verdict* for a construction accident, a $5.35 million dollar verdict** for an automobile accident, and a $40 million dollar structured settlement for medical malpractice.
*later settled while on appeal for $7.940 million
** later settled for $3.5 million
"Lawyer Advertising"
"Prior results do not guarantee a similar outcome."
###