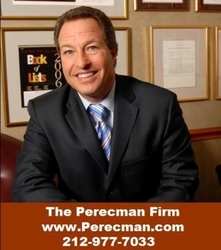 New York, NY (PRWEB) March 5, 2010
The U.S. Consumer Product Safety Commission (CPSC) has announced a recall of over one million stroller manufactured by Maclaren. However, as reported by the New York Post , this was too late for one Brooklyn toddler, whose finger was severed by a hinge joint. According to court papers and New York personal injury attorneys, this incident occurred more than five years before the British company issued the global recall.
Over the past five years, at least 15 serious injuries were reported. Twelve of these were fingertip amputations such as the one that happened to Brooklyn, New York resident Shannon Windram.
"Five years of knowing about the problem, but doing nothing is severely questionable. Upon learning of a product that is a substantial hazard or poses a potential hazard to people, companies are required by federal law to report the problem to the CPSC immediately," said David Perecman, a New York product liability attorney. If your child is injured by a defective product in New York, families should contact a top New York personal injury attorney immediately.
David Perecman and The Perecman Firm, PLLC:
For the past 30 years, the New York personal injury attorneys, auto accident, construction accident, and medical malpractice attorneys at The Perecman Firm, PLLC have championed all types of cases for personal injury accidents. David Perecman, founder of the Firm, is a Board Director and the past Secretary and Treasurer of the New York State Trial Lawyers Association (NYSTLA) and a chair of its Labor Law Committee. Mr. Perecman's achievements have brought him recognition as an Honoree in the National Law Journal's Hall of Fame, in New York Magazine's "The Best Lawyers in America" and The New York Times Magazine "New York Super Lawyers, Metro Edition" for the years 2007-2010.
The Firm has recovered millions of dollars for its clients. Among the more
recent victories, Mr. Perecman won a $15 million verdict* for a construction
accident, a $5.35 million dollar verdict** for an automobile accident, and a
$40 million dollar structured settlement for medical malpractice.
*later settled while on appeal for $7.940 million
** later settled for $3.5 million
"Lawyer Advertising"
"Prior results do not guarantee a similar outcome."
###