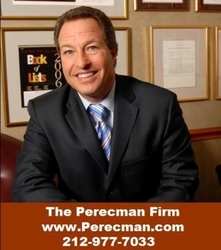 New York, NY (PRWEB) March 24, 2010
A sidewalk freight elevator crushed a homeless man to death outside an upscale Japanese restaurant, a tragedy too common for New York personal injury attorneys.
Michael McDermott, 49, was tragically killed while he was sleeping on the metal doors above the freight elevator that rose from the basement. Apparently a worker at the restaurant put the lift in motion without realizing MacDermott was sleeping on the doors, reports the New York Post.
When the doors swung open, the pressure of the rising elevator crushed McDermott against a stone foundation.
Police are treating the death as an accident. However, New York personal injury attorneys note the words of a restaurant worker who told the newspaper, "We are supposed to have someone check to see if the gates are clear. I guess, last night, nobody did."
"From the worker's statement, the tragedy may actually be a "wrongful death," but more information is needed," said David Perecman, a New York personal injury attorney.
In New York, personal injury attorneys can help determine if the victim was killed as a result of negligence and if the family is entitled to monetary compensation for the elevator accident.
David Perecman and The Perecman Firm, PLLC:
For the past 30 years, the New York personal injury attorneys, auto accident, construction accident, and medical malpractice attorneys at The Perecman Firm, PLLC have championed all types of cases for personal injury accidents. David Perecman, founder of the Firm, is a Board Director and the past Secretary and Treasurer of the New York State Trial Lawyers Association (NYSTLA) and a chair of its Labor Law Committee. Mr. Perecman's achievements have brought him recognition as an Honoree in the National Law Journal's Hall of Fame, in New York Magazine's "The Best Lawyers in America" and The New York Times Magazine "New York Super Lawyers, Metro Edition" for the years 2007-2010.
The Firm has recovered millions of dollars for its clients. Among the more recent victories, Mr. Perecman won a $15 million verdict* for a construction accident, a $5.35 million dollar verdict** for an automobile accident, and a $40 million dollar structured settlement for medical malpractice.
*later settled while on appeal for $7.940 million
** later settled for $3.5 million
"Lawyer Advertising"
"Prior results do not guarantee a similar outcome."
###