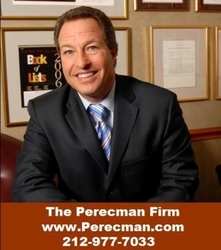 New York, New York (PRWEB) March 26, 2010
With the arrival of spring, more cyclists are planning to enjoy the weather. According to New York personal injury attorneys, this means an increasing number of people sharing the road with drivers and pedestrians.
This week bikers complained to The Brooklyn Paper that police are cracking down on bike riders in downtown Brooklyn, handing out an increasing number of tickets. The police were focusing on roadway around Manhattan and Brooklyn, especially one heavily traveled intersection by the entrance to the Brooklyn Bridge.
The tickets were written to riders cycling outside the bike lane. According to New York law, explains New York personal injury attorney David Perecman, cyclists should ride in a lane if there is one that is available, except when the lane is blocked or when making a turn.
According to the cyclists, traffic congestion causes them to ride outside the lane, increasing bicycle accident statistics..
Laws aim to prevent road accidents and New York personal injury attorneys at the Perecman Firm agree that cyclists shouldn't be targeted to an extraordinary degree, but they should be ticketed if they are breaking the law.
David Perecman and The Perecman Firm, PLLC:
For the past 30 years, the New York personal injury attorneys, auto accident, construction accident, and medical malpractice attorneys at The Perecman Firm, PLLC have championed all types of cases for personal injury accidents. David Perecman, founder of the Firm, is a Board Director and the past Secretary and Treasurer of the New York State Trial Lawyers Association (NYSTLA) and a chair of its Labor Law Committee. Mr. Perecman's achievements have brought him recognition as an Honoree in the National Law Journal's Hall of Fame, in New York Magazine's "The Best Lawyers in America" and The New York Times Magazine "New York Super Lawyers, Metro Edition" for the years 2007-2010.
The Firm has recovered millions of dollars for its clients. Among the more recent victories, Mr. Perecman won a $15 million verdict* for a construction accident, a $5.35 million dollar verdict** for an automobile accident, and a $40 million dollar structured settlement for medical malpractice.
*later settled while on appeal for $7.940 million
** later settled for $3.5 million
"Lawyer Advertising"
"Prior results do not guarantee a similar outcome."
# # #