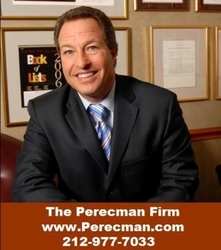 The Best Lawyers in America
New York, NY (PRWEB) July 22, 2009
On Wednesday a taxi collided with a beer truck, jumped the curb, and hit four pedestrians. Only minor personal injuries were reported and, by the next day, the story faded from public view. What New York personal injury attorneys and accident victims know, is that the emotional scars of victims of auto accidents, such as this one, don't fade as fast.
As reported in the New York Daily News, the cab's driver, Hafiz Faheem, said a beer truck clipped his cab as he made a turn off Amsterdam Avenue in Manhattan. The collision sent his New York yellow cab bouncing over the curb and onto the sidewalk, slamming into four pedestrians before coming to a stop. Or at least so says the driver of the taxi-cab.
"He came behind me so fast, and he hit me. He was not paying attention or he was doing something," said Mr. Faheem to the reporter from the News.
"Less than one minute of a driver not paying attention can result in permanent emotional scars that stay with an innocent victim for the rest of his or her life," said New York personal injury attorney David Perecman.
In this case, four lives were affected by a beer truck driver who did not even stop at the scene.
"Those pedestrians will always wonder if a car will jump the curb again and, possibly, never walk down another sidewalk unafraid, especially in New York," personal injury attorney Perecman noted.
The taxi driver will wonder if he will get hit again. The victims will wonder if he ever got hit at all or whether that was just an excuse. Stress and apprehension are residual auto accident personal injuries that can be, to some, as painful as physical personal injury.
Post Traumatic Stress Disorder (PTSD) is a common personal injury that can occur after car accidents. Although symptoms of PTSD emotional injuries typically begin within 3 months of a traumatic car accident, personal injury attorneys know that occasionally they do not appear until years later. Once PTSD occurs, some people recover within 6 months, while others suffer much longer.
"People who drive with a carefree attitude would do well to remember that they're responsible for one to two tons of steel that can cause grievous and permanent personal injury and emotional harm upon those with whom they share the street. Paying attention is basically the optimal rule in driving," asserted Perecman, who as a New York City personal injury attorney, has handled his share of auto accidents.
In the interest of the greater good, a driver in charge of a vehicle should refrain from using his or her cell phones, eating, or engaging in other distracting activities.
About David Perecman and The Perecman Firm, PLLC:
For the past 25 years, the New York personal injury attorneys, construction accident, auto accident and medical malpractice attorneys at The Perecman Firm, PLLC have championed all types of cases for personal injury. David Perecman, founder of the Firm, is the past Secretary of the New York State Trial Lawyers Association (NYSTLA) and a chair of its Labor Law Committee. Mr. Perecman's achievements have brought him recognition as an Honoree in the National Law Journal's Hall of Fame, in New York Magazine's "The Best Lawyers in America" and The New York Times Magazine "New York Super Lawyers, Metro Edition".
The Firm has recovered millions of dollars for its clients. Among the more
recent victories, Mr. Perecman won a $15 million verdict* for a construction
accident, a $5.35 million dollar verdict** for an automobile accident, and a
$40 million dollar structured settlement for medical malpractice.
*later settled while on appeal for $7.940 million
** later settled for $3.5 million
"Lawyer Advertising"
"Prior results do not guarantee a similar outcome."
###