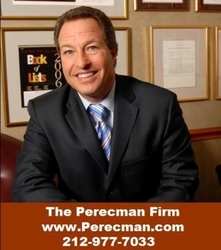 New York (PRWEB) March 4, 2010
In one of the latest incidents of Toyota accidents caused by stuck accelerator pedals, according to the New York Post, Jerry Silver, 86, lost control of his car and collided with two parked vehicles before coming to a stop on the steps of the Forest Hills Jewish Center. He was in the car with his 85-year-old wife, Rosalyn, driving home along Queens Boulevard, when the accelerator stuck on his 2009 Camry, which New York personal injury lawyers have been seeing many bad statistics on lately.
Thankfully, neither Silver nor his wife was seriously hurt in the accident.
His car is on the list of recalled Toyotas along with Avalons, Tundras; RAV4s, Corollas, Matrixs; Sequoias; and Highlanders.
Before this recall, Toyotas were reputed to be among the most dependable cars in the world. Now, Toyota is in the process of recalling millions of vehicles that could potentially malfunction so it can solve the problem with the sticky accelerators. A stuck accelerator can cause injury to the occupants of the vehicle as well as to other drivers sharing the road. However, millions of Toyota owners continue to drive their cars.
While no statement was released by this couple or accident lawyers from Queens, New York, they are among many owners of Toyotas who are facing the dilemma over whether or not to continue driving their vehicles.
The automaker has never released any statement that recommends drivers stop driving their vehicles. However, the company does not recommend that people continue to drive their cars and trucks either. Toyota will only say that the risk of driving these recalled vehicles is extremely low.
Federal transportation officials are not making any recommendations either. Their positioning is that Toyota owners can continue to drive, but should stay alert to potential accelerator problems.Personal injury lawyers in New York also stress the importance of staying alert.
With so many Toyotas on the road, it's expected that many will continue to drive their recalled vehicles. However, there is still a real risk of accident or death.
"If you or someone you love is still driving a Toyota, I recommend you have the number of an experienced New York personal injury lawyer on hand. Better to have it and not need it than to need it and not have it," said Perecman.
David Perecman and The Perecman Firm, PLLC:
For the past 30 years, the New York personal injury lawyers, auto accident, construction accident, and medical malpractice lawyers at The Perecman Firm, PLLC have championed all types of cases for personal injury accidents. David Perecman, founder of the Firm, is a Board Director and the past Secretary and Treasurer of the New York State Trial Lawyers Association (NYSTLA) and a chair of its Labor Law Committee. Mr. Perecman's achievements have brought him recognition as an Honoree in the National Law Journal's Hall of Fame, in New York Magazine's "The Best Lawyers in America" and The New York Times Magazine "New York Super Lawyers, Metro Edition" for the years 2007-2010.
The Firm has recovered millions of dollars for its clients. Among the more recent victories, Mr. Perecman won a $15 million verdict* for a construction accident, a $5.35 million dollar verdict** for an automobile accident, and a $40 million dollar structured settlement for medical malpractice.
*later settled while on appeal for $7.940 million
** later settled for $3.5 million
"Lawyer Advertising"
"Prior results do not guarantee a similar outcome."
###