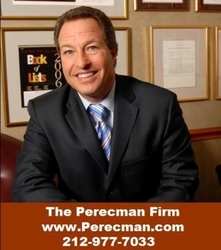 New York, NY (PRWEB) March 25, 2010
All tenants were evacuated yesterday from a Broadway building, a necessary move according to New York personal injury lawyers. The property, 1182 Broadway, had been illegally converted from a 16-story manufacturing building into high-end residential apartments.
Inspectors from the Department of Buildings (DOB) found that the building had numerous safety violations including no fire sprinklers, no secondary exit, and only one stairwell, which could trap tenants in the building in the event of a fire.
They called the landmark doorman building, located between 28th and 29th Streets in New York City's Flatiron district, a "deathtrap."
"The owners and building manager are incredibly lucky nothing happened," said David Perecman, a New York personal injury lawyer.
The DOB charged the owner, Mocal Enterprises, with violations of the New York State building code for converting the building without having a permit and for occupancy contrary to DOB regulations.
In New York, personal injury lawyers confirm that owners or property managers who are aware of housing code violations can be convicted of negligent homicide and reckless endangerment if any injuries or deaths happen on their property as a result of their inaction.
There have been many structures that have endangered lives with fire hazards in all boroughs of New York. Personal injury lawyer Perecman of Manhattan recounts this year's accident in which five people died in a multi-family apartment building arson in Bensonhurst, Brooklyn. Illegal partitions, which divided the rooms, made it impossible for several victims to escape, according to officials.
Records show that in 2009, DOB issued 1,116 vacates due to illegal conversions where there was a potential threat to public safety. This number is slightly higher than the 1,086 vacates issued in 2008.
David Perecman and The Perecman Firm, PLLC:
For the past 30 years, the New York personal injury lawyers, auto accident, construction accident, and medical malpractice lawyers at The Perecman Firm, PLLC have championed all types of cases for personal injury accidents. David Perecman, founder of the Firm, is a Board Director and the past Secretary and Treasurer of the New York State Trial Lawyers Association (NYSTLA) and a chair of its Labor Law Committee. Mr. Perecman's achievements have brought him recognition as an Honoree in the National Law Journal's Hall of Fame, in New York Magazine's "The Best Lawyers in America" and The New York Times Magazine "New York Super Lawyers, Metro Edition" for the years 2007-2010.
The Firm has recovered millions of dollars for its clients. Among the more recent victories, Mr. Perecman won a $15 million verdict* for a construction accident, a $5.35 million dollar verdict** for an automobile accident, and a $40 million dollar structured settlement for medical malpractice.
*later settled while on appeal for $7.940 million
** later settled for $3.5 million
"Lawyer Advertising"
"Prior results do not guarantee a similar outcome."
###