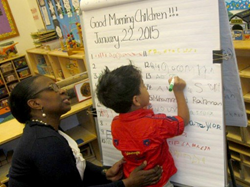 This program will provide our staff members with the opportunity to obtain a master's from an excellent school while conveniently attending courses at a Bronx location.
New York, NYC (PRWEB) February 04, 2015
The expansion of Universal Pre-K in New York City offers thousands of young children access to early learning. To further children's success, teachers in community-based programs need support to earn master's degrees that lead to a permanent teacher certification. Bank Street Graduate School of Education is partnering with BronxWorks to offer a community-based master's degree in early childhood education.
"This program will provide our staff members with the opportunity to obtain a master's from an excellent school while conveniently attending courses at a Bronx location," says Eileen Torres, Executive Director of BronxWorks. "We know that having our employees obtain their master's degree from Bank Street will allow us to further improve the quality of the services to our young children in the South Bronx." This partnership is funded, in part, by a grant from the Russell Grinnell Memorial Trust.
Courses will be offered at BronxWorks and significant tuition support will be available. Bank Street and BronxWorks will work together to design a state-of-the-art classroom at BronxWorks where technology is integrated in the service of teaching and learning.
"We are thrilled to be partnering with BronxWorks on this important initiative," says Virginia Roach, Dean of Bank Street Graduate School of Education. "Our goal is to ensure high-quality, relevant instruction that meets the needs of busy professionals in the communities where they work and live."
This effort will support Bronx community-based organizations, and make it possible for preschool teachers to become credentialed by New York City and New York State as early childhood educators. Participants apply to Bank Street's Early Childhood General Education master's program. As degree candidates, they will work closely with Bank Street faculty and have immediate access to the College's most current early childhood resources, robust professional and children's libraries, extensive student support systems, conferences, and special events, as well as a prestigious alumni network.
The program will use a cohort model. Participants will complete the prescribed courses and experiences as part of an ongoing professional learning community. Research shows that cohort models increase participants' retention, attendance and professional dispositions. Faculty will tailor courses to the work schedules and teaching strengths of all participants, and align required graduate work with daily classroom practice.
"This is a tremendous opportunity for Bank Street and working teachers to innovate a high quality teacher preparation program using a range of 21st century learning practices," says Project Director Nancy Lauter, a highly experienced early childhood educator.
To be eligible, applicants must hold an undergraduate degree in any field. In order to obtain a permanent credential, candidates must complete the master's program and all New York City and State requirements.
Recruitment, program planning, and candidate selection will occur in Spring 2015. The application deadline is April 1, 2015, and the program is scheduled to begin in the summer. Program Information Sessions will be held on Wednesday, February 11, and Wednesday, March 11, from 5:30 to 7:00 p.m. at BronxWorks at 1130 Grand Concourse.
For more information about the program and how to apply, please contact Dr. Nancy Lauter by email at nlauter(at)bankstreet(dot)edu or by phone at 212-875-4524.
ABOUT BANK STREET COLLEGE
Bank Street is a leading voice for progressive education in the policymaking arena, in New York and nationwide. With its focus on experiential learning and advocacy of effective approaches to early childhood education, Bank Street is among the nation's most effective graduate schools for teacher preparation. For more information, please visit bankstreet.edu.
ABOUT BRONXWORKS
Formerly known as Citizens Advice Bureau, BronxWorks has helped individuals and families improve their economic and social well-being since 1972. From toddlers to seniors, they feed, shelter, teach, and support their neighbors to build a stronger community. For more information, please visit bronxworks.org.