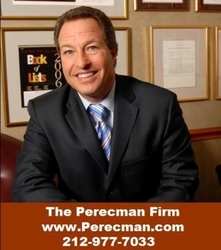 New York (PRWEB) March 18, 2010
In a disturbing, but non-tragic incident, an air traffic controller allowed a child to direct planes at John F. Kennedy Airport in Queens, New York as noted by personal injury lawyers. He let another child direct planes on the following day. The first incident took place on February 16. Around 7 p.m., the child radioed simple transmissions to the departing airplanes, according to the time stamp on a recording of the incident. In total, the child recorded five of these messages.
Apparently, the child was being supervised by an adult. In the background, adult voices can be heard and, after the child speaks, a male voice comes on and addresses the pilots.
"As personal injury lawyers, we have nothing against bringing your child to work. However, a child should not be allowed to participate. Especially in professional situations that can potentially endanger thousands of lives," said David Perecman, a New York personal injury lawyer serving Queens.
The Federal Aviation Administration (FAA) has strict regulations for a reason; one of the largest losses of life in the history of commercial aviation occurred on a departure runway. In March of 1977, 583 people died when a Pan Am Clipper collided with a KLM 747 at the Tenerife airport in the Canary Islands. One plane was taxiing while the other was taking off due to miscommunication with the tower.
On March 23, 1994, a pilot allowed his 15-year old son to sit at the controls of a Hong Kong-bound Airbus A-310. All 75 passengers and crew on Aeroflot Flight 593, died as a result.
The control tower, itself, where the New York, JFK airport incidents took place, is a highly secure area for air traffic controllers. Only supervisory staff and airport employees with a need to be there are allowed inside. A FAA spokesman adds that children of the tower's employees are allowed to visit with pre-approval from the FAA.
"The job is an air traffic controller is a very serious one. Even if there was never any real danger in New York, personal injury lawyers know the incident certainly will cause many passengers to feel less confident about flying, and that alone has the potential to be a problem. Rules and regulations are what keep us safe," said Perecman.
The tower controller and his supervisor were suspended.
About David Perecman and The Perecman Firm, PLLC:
For the past 30 years, the New York personal injury lawyers, auto accident, construction accident, and medical malpractice lawyers at The Perecman Firm, PLLC have championed all types of cases for personal injury accidents. David Perecman, founder of the Firm, is a Board Director and the past Secretary and Treasurer of the New York State Trial Lawyers Association (NYSTLA) and a chair of its Labor Law Committee. Mr. Perecman's achievements have brought him recognition as an Honoree in the National Law Journal's Hall of Fame, in New York Magazine's "The Best Lawyers in America" and The New York Times Magazine "New York Super Lawyers, Metro Edition" for the years 2007-2010.
The Firm has recovered millions of dollars for its clients. Among the more recent victories, Mr. Perecman won a $15 million verdict* for a construction accident, a $5.35 million dollar verdict** for an automobile accident, and a $40 million dollar structured settlement for medical malpractice.
*later settled while on appeal for $7.940 million
** later settled for $3.5 million
"Lawyer Advertising"
"Prior results do not guarantee a similar outcome."
###