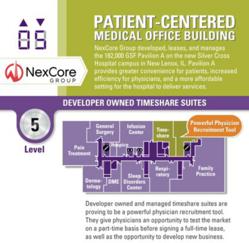 Physicians and patients are excited to be on this efficient, thoughtfully designed campus.
Denver and New Lenox, IL (PRWEB) May 29, 2013
NexCore Group, a top-ranked healthcare real estate company, has finalized over 22,000 square feet of leases since the beginning of this year at its 182,000 gross square foot Pavilion A Medical Office Building on the new Silver Cross Hospital campus in New Lenox, a southwest suburb of Chicago. NexCore developed, leases and manages Pavilion A, which was completed in December 2011.
Patient-Centered Medical Office Building
Pavilion A houses 68,000 rentable square feet of hospital outpatient services on its first two levels and 106,000 rentable square feet of physician office suites on the four levels above. This consolidation of outpatient services enhances patient convenience, significantly eases wayfinding and allows the hospital to deliver many of its services in a lower cost, non-acute care setting.
Pavilion A is also directly integrated into the $400 million, state-of-the-art replacement hospital on three levels. This integration of inpatient and outpatient services further improves the patient experience and provider efficiency.
According to Bill Brownlow, Chief Financial Officer at Silver Cross, the hospital's outpatient volumes have increased by 6.5 percent since Pavilion A opened in December 2011.
"NexCore is really impressed with how the Silver Cross brand is expanding through the southwest Chicago market," says Greg Venn, President & CEO of NexCore. "Physicians and patients are excited to be on this efficient, thoughtfully designed campus. Our leasing success is also a reflection of the hospital's highly desirable location, its focus on patient-centered care and its reputation as a Thomson Reuters Top 100 Hospital."
Silver Cross has been named one of the nation's 100 Top Hospitals by Thomson Reuters Healthcare for seven years in a row (something only four other hospitals in the country can claim). Because Silver Cross places great emphasis on patient satisfaction, its new hospital campus was designed to look, feel and function like a hospitality center.
As such, Pavilion A's amenities and technology provide a high-level of service for patients. The lobby features a Walgreens pharmacy, full-service eye care center, café and hospital ambassadors to help patients with wayfinding, transportation and door-to-door service. Pavilion A patients can also take advantage of campus amenities such as valet parking, campus shuttle, outdoor serenity garden, hospital gift shop and hospital dining that features restaurant-style seating and food selections.
Silver Cross has also installed eight self-service check-in kiosks on the first floor of Pavilion A as part of its hospitality approach to healthcare. After checking in, patients receive a restaurant-style pager, which gives them the freedom to move about the campus rather than being confined to a waiting area. The kiosks and pagers are viewed by patients and staff as critical to reducing wait times and creating a better "guest" experience.
New and Expanding Tenants
Tenants that have recently signed leases at Pavilion A include C & R Medical Group, Pain Treatment Centers of Illinois, Premier Dermatology, Primary Care Professionals, Sanitas Medical Group and Vitas Health Care Corporation of Illinois.
C & R Medical Group, a primary care practice and anchor tenant in Pavilion A, has doubled the size of its practice (adding two physicians and one physician assistant) since moving to the building in December 2011. The expanded group moved from its original suite in Pavilion A to a larger 6,876 square foot suite.
Pain Treatment Centers of Illinois, a group with two physicians and two physical therapists, leases 3,601 square feet. The group has a second office location in Orland Park.
"Locating my practice in Pavilion A on the Silver Cross campus will increase the flexibility and efficiency of my workday," says Dr. Faris Abusharif of Pain Treatment Centers of Illinois. "Because of the direct connections between the medical office building and the hospital, I will be able to see my pain management patients in the office and fulfill my call obligations without ever having to leave the building — saving me and my patients valuable time."
Premier Dermatology, a 10-physician practice, occupies 1,578 square feet. After testing the market in one of Pavilion A's timeshare suites, Premier Dermatology realized it was capturing new patients and converted to a full-time lease. The group provides medical, cosmetic and spa services in six locations around the Chicago metro area.
Primary Care Professionals occupies 3,477 square feet. The group consists of two internal medicine practitioners and one family practice physician.
Sanitas Medical Group, a primary care practice with three physicians and one nurse practitioner, leases 3,880 square feet. The group is relocating from its office on the old Silver Cross Hospital campus in Joliet.
Vitas Healthcare, which provides hospice and palliative care for adult and pediatric patients, occupies 2,840 square feet. Vitas moved its regional headquarters office to Pavilion A from its former location in Joliet.
While talks are currently underway with several other prospective tenants, limited space is still available in the Silver Cross Medical Services Building. For more information, please contact Kristen Kelley, Vice President of Leasing, at (303) 382-0197 or kristen.kelley(at)nexcoregroup(dot)com.
About NexCore Group LP
NexCore Group delivers comprehensive healthcare real estate solutions for hospitals, healthcare systems, and physician partners across the United States. Recognized by Modern Healthcare as one of the Top 20 Healthcare Real Estate Developers since spinning off from its predecessor company in 2004, NexCore has become one of the nation's most active and respected healthcare developers. NexCore has grown its operating platform, expanded with regional offices, and increased its portfolio of developed, acquired, and managed projects to include over 5.5 million square feet of facilities, with over 1.9 million square feet currently under management. NexCore is headquartered in Denver, with offices in Portland, Ore., Chicago, Ill., and Bethesda, Md. For more information, please visit http://www.nexcoregroup.com. Contact: Tracy Hindman, Marketing Director, 303-293-0673.
About Silver Cross Hospital
Silver Cross Hospital is a not-for-profit health care provider serving Will County and southwest suburban communities since 1895. Silver Cross has been recognized as a Thomson Reuters 100 Top Hospitals National Award winner for seven consecutive years; one of America's Most Customer Friendly Hospitals by the American Alliance of Healthcare Providers and was honored with an "A" Hospital Safety ScoreSM by The Leapfrog Group. With over 2,900 employees, physicians and volunteers, Silver Cross operates a 289-bed acute care hospital and 10 satellite facilities providing outpatient services and physician offices and recently opened a state-of-the-art replacement hospital on February 26, 2012 at I-355 and Route 6 in New Lenox.