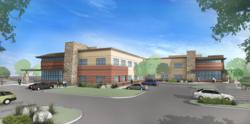 It's been such a pleasure to work with NexCore because of their shared commitment to our community.
Westminster and Denver, CO (PRWEB) June 28, 2011
NexCore Group LP, a top national healthcare real estate developer, has broken ground on the 48,000 square foot St. Anthony North Medical Pavilion at I-25 and 144th Avenue in Westminster, Colo. The ground break is NexCore's second this year, with two more of its ambulatory care development projects expected to break ground in the second half of 2011.
NexCore is developing the $16 million Medical Pavilion in collaboration with its client St. Anthony North Hospital — a full-service, acute-care community hospital and member of Centura Health, Colorado's largest network of hospitals and healthcare services.
The Medical Pavilion is the first facility to be constructed on St. Anthony North's 35-acre greenfield campus located on the southwest corner of the I-25 and 144th Avenue interchange, directly across from The Orchard Town Center, a one million square foot, regional open-air shopping center.
According to Deborah Horne, Vice President of Business Development at St. Anthony North, the Medical Pavilion and future multi-phased development on the greenfield campus will allow the hospital to fulfill its vision of bringing comprehensive ambulatory and emergency services to the underserved residents of North Metro Denver, including the communities of Westminster, Thornton, Northglenn, Broomfield, Erie, Brighton and the surrounding areas.
"St. Anthony North joined the north metro community 40 years ago to meet an emerging health care need," says Horne. "Since then the community has experienced significant growth, and this new project will allow us to continue to grow with our community by offering expanded health care services locally. It's been such a pleasure to work with NexCore because of their shared commitment to our community. They have been tremendously helpful with all aspects of project development and physician recruitment."
The two-story Medical Pavilion will house physician office suites and hospital services, including 24-hour emergency department (serving approximately 20,000 patients per year), imaging center (including general radiology, CT, MRI and ultrasound), women's breast imaging center, laboratory services, heliport (Flight for Life® emergency air transport), and possible ambulatory surgery center.
The Medical Pavilion is approximately 75% leased with three independent physician groups committed to office space in the facility, including True Orthopedics, May Eye Clinic, and Advantage E.N.T., LLP.
"We are excited about the opportunity to grow our practice at the St. Anthony North Medical Pavilion," says David Van Kooten, M.D. of Advantage E.N.T. "The location at 144th and I-25 is ideal and will provide easy access for our patients in the North Denver area and simplify referrals from our primary care physicians. The new campus is clearly going to be the hub of medical care for the region."
Future development on the campus will accommodate an expansion of services that will likely include primary care, cardiology, oncology, gastroenterology, occupational medicine, and preventative/wellness.
"The Medical Pavilion project is representative of an increasing trend, brought on in part by healthcare reform, of developing full service outpatient facilities in retail quality locations, close to where patients live," says Jarrod Daddis, Executive Managing Director at NexCore Group. "This new model of ambulatory care delivery calls for high quality, efficiently designed facilities that offer patients integrated hospital and physician services under one roof."
NexCore Group is providing a full spectrum of healthcare real estate services for the Medical Pavilion project, including strategic planning, development, financing, leasing, and management.
About NexCore Group LP
NexCore Group delivers comprehensive healthcare real estate solutions for hospitals, healthcare systems, and physician partners across the United States. Recognized by Modern Healthcare as one of the Top 20 Healthcare Real Estate Developers since spinning off from its predecessor company in 2004, NexCore has become one of the nation's most active and respected healthcare developers. NexCore has grown its operating platform, expanded with regional offices, and increased its portfolio of developed, acquired, and managed projects to include nearly 5.2 million square feet of facilities, with nearly 1.8 million square feet currently under management. NexCore is headquartered in Denver, with offices in Chicago and Bethesda, Md. For more information, please visit http://www.nexcoregroup.com. Contact: Tracy Hindman, Marketing Director, 303-244-0700.
This press release contains forward-looking statements, including statements about NexCore's expected future groundbreaks and the possible expansion of services on the St. Anthony campus. These statements are not guarantees of future performance and are subject to certain risks, uncertainties and assumptions, including the risks set forth under "Risk Factors" in NexCore's most recent Quarterly Report on Form 10-Q filed with the SEC. Such forward-looking statements are based on NexCore's current expectations and projections made by NexCore management. NexCore assumes no obligation to update publicly any forward-looking statements, whether as a result of new information, future events or otherwise.
Fact Sheet
St. Anthony North Medical Pavilion
(http://www.nexcoregroup.com/in-development/StAnthonyNorthMedicalPavilion)
Location: 400 W. 144th Avenue, Westminster, Co. 80023 (at the intersection of I-25 and 144th Avenue)
Size: Two levels, 48,000 gross square feet
Construction Start: June 2011
Planned Occupancy: June 2012
Client: St. Anthony North Hospital, Westminster, Co. (member of Centura Health)
Developer: NexCore Group LP, Denver, Co.
Owner: The project is being financed and will be owned by NexCore Group
Architect: Davis Partnership Architects, Denver
Construction Manager: Calcon Constructors, Denver
Property Manager: NexCore Properties LLC, Denver
Asset Manager: NexCore Properties LLC, Denver
###