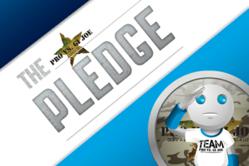 By taking "The Pledge" you can help our troops and get in shape at the same time.
Washington, DC (PRWEB) August 07, 2012
Nexercise and Pros vs. GI Joe announce "The Pledge." "The Pledge" is a great way for people to support wounded service members while getting in better shape. "Pledge" participants commit to doing 25, 50, or 100 sit-ups and push-ups, a few times a week, for up to eight weeks. Once the participant completes "The Pledge," a corporate sponsor makes a donation to wounded warrior programs.
Pros vs. GI Joe, the creator of the program, realized that they needed a mobile component to better engage users and provide a simple way to track and log activities. They evaluated a number of mobile partners and determined that Nexercise provides the most engaging and easiest to use solution. Nexercise makes iPhone and Android apps that help people lose weight and get in better shape. It is an app for busy people who need a little bit of motivation to stick with their exercise program. Nexercise uses social interactions, game mechanics with points and medals, real-life rewards, and simple tracking and logging to motivate people to exercise consistently. Now they have added the ability to help wounded veterans as an additional motivator.
How "The Pledge" Works:
"The Pledge" is a movement. When a person signs up for it, they are committing to completing a certain number of sit-ups and push-ups every week for a set number of weeks. That's it! The best part is that the participant choses a number that works for them. It is easily tailored to any fitness level. When the participant completes "The Pledge," a Pros vs. GI Joe sponsor will donate money to a wounded warrior program.
"Pledge" participants who download the Nexercise app in the Apple App Store or Google Play will also be able to log their activities, earn special medals, and qualify for rewards and prizes. They will win stuff, get in better shape, and support the troops all at the same time.
Background:
Military service is important to the Nexercise team. Its COO and Co-founder, Greg Coleman is a Lieutenant Colonel in the Air National Guard and spent over nine years in the active duty Air Force. He is a Command Pilot with over 60 global combat and combat support missions. For him, military service is a family affair. His father was a Navy helicopter pilot and his maternal grandfather was a Tuskegee Airman and World War II era Army pilot. Additionally, Nexercise's CEO and Co-founder, Ben Young is the son of a former Air Force pilot. The military has been part of both of their lives and they jumped at the opportunity to work with Pros vs. GI Joe.
Pros vs. GI Joe was founded by Greg and Addie Zinone in 2007 to give back to our military men and women in a truly unique, fun, and interactive way. They are a military family who personally understands the sacrifices service members and their families make. Addie is a Staff Sergeant in the U.S. Army Reserve and served two tours of duty in support of Operation Iraqi Freedom from 2003-2004 and from 2007-2008.
Although Greg Zinone is not in the military, he feels those who do not wear the uniform have an obligation to support those who do. He gives back by bringing joy and excitement to deployed service members via virtual video game competitions with professional athletes. Deployed GI Joe play head-to-head with real-life Pros who are here at home in video games connected through high-speed data connections.
Information on "The Pledge" can be found at http://www.woundedwarriorarena.org/take_the_pledge.php.
The Nexercise app is available for the iPhone at http://itunes.apple.com/us/app/nexercise/id417348701 and for Android at https://play.google.com/store/apps/details?id=com.nexercise.client.android.