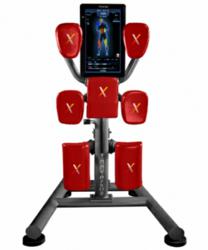 The Nexersys equipment is different than anything the market has ever seen and I believe it is the next best thing in fitness training.
Phoenix, AZ (PRWEB) December 18, 2012
Fitness4HomeOnline.com, a division of Arizona's top-rated specialty fitness dealer Fitness 4 Home Superstore, announces it will be introducing Nexersys™ products to its equipment lineup. The Nexersys training equipment combines mixed martial arts and boxing-inspired, High Intensity Interval Training ("HIIT") with intelligent, interactive programming.
Nexersys offers a professional-grade multimedia fitness product that delivers the motivation of a personal trainer. The high-intensity interval training, along with integrating the entertainment and feedback from today's gaming and computer technology, make this possible. The workout is delivered through cardio, core, technique and strike video training, plus Avatar sparring and multiplayer/gaming rounds.
The Nexersys system is well suited for all fitness levels. The rounds are designed to eliminate frustration for a beginner and boredom for an advanced user. Beginner, intermediate and advanced striking all include technique rounds to teach users how to throw each strike and to put them together into a combo efficiently. The Nexersys workout delivers a physically and mentally challenging fitness experience with detailed feedback, including accuracy, strike count and power.
"The Nexersys equipment is different than anything the market has ever seen and I believe it is the next best thing in fitness training," said Fitness 4 Home Superstore Owner and President Bob Lachniet. "As the best overall fitness value on the market, shoppers can take advantage of this entertaining and effective training equipment just in time for the holidays. A single piece of equipment can help users reach their fitness goals while having fun."
Fitness4Home Online is stocking three Nexersys models:

Nexersys Home Model NXS-H – Ideally suited for family fitness, the home model is also a good choice for avid exercisers. Multi-player gaming options deliver progressively harder workouts. The Nexersys mixed martial arts/boxing-inspired training equipment focuses on striking, cardio and "exergaming" with over 100 professional training videos and unlimited four-minute Avatar rounds.
Nexersys Pro Model NXS-P – A major upgrade for the serious athlete, the pro model includes a more rugged design as well as touch-screen interaction and other features suitable for professional training. The NXS-P still has multi-user features and workout history tracking appropriate for family or group training. Already in use by mixed martial arts pros, NASCAR drivers and other celebrities, the NXS-P has become the equipment of choice for the elite athlete.
Nexersys Commercial Unit NXS-C – Specially designed for the commercial gym, the NXS-C offers a larger, heavier frame and walk-up software features such as "Try Me" and "Quick Start" for the first-time user. The NXS-C is designed to withstand dozens of users each day.
For more information on these new products, visit http://www.fitness4homeonline.com/.
About Fitness4HomeOnline.com
Fitness4HomeOnline.com is a premier supplier of high quality consumer and commercial fitness equipment that guarantees the absolute lowest prices and provides free shipping throughout the 48-contiguous United States. Fitness4HomeOnline.com has a vested and personal interest in providing their customers with the finest equipment and customer service available to assure their goals are achieved and their satisfaction is complete.
###