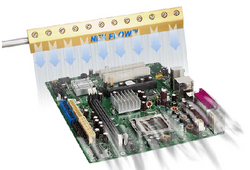 (PRWEB) May 3, 2010
Nex Flow™ Air Products Corp. Introduces The X-Stream™ Air Blade™ Air Knife system is one of the most quiet and efficient of any compressed air operated air knife available on the market today
Tests indicate that the compressed air operated Nex Flow™ X-stream™ Air Blade™ air knife system is one of the most quiet and efficient of any compressed air operated air knife available. Unlike many competitive air knife products the X-stream™ Air Blade™ air knife is "anodized" for longer material life. All of Nex Flow™ air knife systems come with stainless steel shims – not cheap plastic ones that wear out, all at no extra charge.
Applications include replacing drilled pipe, rows of nozzles for all types of blow-off and even cooling applications. Energy reduction in compressed air use can be anywhere from 50% to 90% depending on the application. Lengths in anodized aluminum are now available from 2" to 54" and in stainless steel from 2' to 36".
Contact:
Nex Flow Air Products Corp.
10520 Yonge Street, Unit 35B-220
Richmond Hill, ON, L4C 3C7
Tel toll free: (877) 797-2777
Fax toll free: (877) 797-2660
Web: http://www.nexflowair.com
E-mail: sales(at)nexflowair(dot)com
###