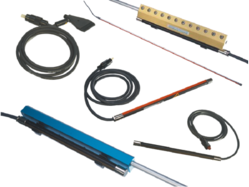 Toronto, Ontario (PRWEB) September 19, 2011
Dirt buildup is a problem in many types of production applications, especially where plastic, fiberglass or other materials that have a propensity to develop a static charge are used. Cleaning of products with a static charge is partly science and partly art. Special cleaning systems that are similar to web cleaning have been developed for such items as cellular telephones, computer screens and other products to increase production output and improve quality.
Nex Flow™ has a complete range of static control technology along with professional expertise to advise and assist in any static control application:

Static Bars – both standard – extra strong – X-proof
Ionizing Air Nozzles designed to last and prevent dirt buildup
Ergonometric Designed, Repairable, Hand Held Ionizing Gun to remove static and clean charged surfaces
Ionizing Blowers for portable use and preventing static charges – with either the standard or extra strong static bar
Point Ionizers for small spots requiring static removal
Air Knife Ionizers for neutralization and blow-off of direct from all types of charged surfaces – with either the standard or extra strong static bar or X-proof static bar
Nex Flow™ static control products are made to last! Static bars are all of a rugged design, static pins have state of the art design and are of a solid design, not flimsy and easily breakable as many poorly designed competitive products. Power Supplies are "repairable" and come with an unparalleled two year warranty.
###