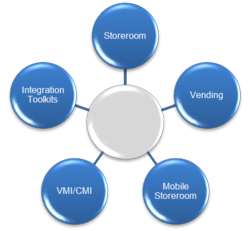 "Our industry-first cloud-based solution allows management of indirect materials from anywhere through a browser, and our mobile capabilities extends this further, providing companies with unparalleled control of their indirect materials"
Lake Forest, CA (PRWEB) February 20, 2013
Delivering the industry's first Cloud-based software solution for indirect materials management, Nexiant announced today availability of Nexiant 8 which provides companies with unparalleled enterprise-wide visibility into their indirect materials spending, usage and inventory. Additionally, Nexiant 8 offers the unique capability to control inventory on-the-go with its tablet-based mobile solution.
According to Vince Sheeran, CEO of Nexiant, "Companies today have implemented tight controls on their direct material spend, i.e. materials that become part of a manufactured product. But many have little or no control over the materials that are used or consumed to actually make that product. We developed Nexiant 8 to address this problem, providing a complete and integrated approach that provides comprehensive visibility into the full lifecycle of indirect materials - from sourcing and procurement through staging, usage and disposal. Our industry-first cloud-based solution allows management of indirect materials from anywhere through a browser, and our mobile capabilities extends this further, providing companies with unparalleled control of their indirect materials at all levels of the customers business."
Built on the Microsoft Azure Cloud platform, Nexiant 8 significantly simplifies the indirect materials management process by providing anytime, anywhere access via the Internet. There's no software to install and maintain on premise which eliminates the need to retain specific servers, install upgrades or perform maintenance. Nexiant 8 is flexible and modular, and can be integrated easily with a company's existing IT solutions, no matter how varied or complex the environment. Customers can utilize what they want, when they want.
Nexiant 8 uniquely offers the ability to manage material usage and replenishment at multiple inventory locations within a manufacturing site, as well as provide visibility and analysis across site and divisions within the entire enterprise. Customers can track material usage to a detailed level down to the item, user, department, cost center, GL code, etc. and can control consumption against budget targets. Material replenishment can be streamlined with automated reordering logic and web services can enable order integration with suppliers. Customers can also enforce the use of approved suppliers as well as define an order approval workflow. Nexiant 8 also supports material transfers to rebalance stock levels as needed and allows quick identification of slow-moving materials that are in excess or need to be phased out.
A new concept that Nexiant brings to indirect materials management is Nexiant 8's Mobile Storeroom, enabling companies to control inventory on-the-go (i.e. vans and trailers). The solution provides access to the Nexiant system via a mobile tablet for real-time inventory transaction capabilities in a mobile environment.
Sheeran stated, "Nexiant's approach is to address the indirect material problem holistically rather than focusing only on certain sub-processes. This approach helps to ensure that indirect material supply and demand are in sync and the overall indirect materials lifecycle is optimized. A solution that only addresses the supply problem without getting control of how and when materials are used has limited value. Likewise, a solution that focuses on tracking/controlling usage of commonly in-demand material without addressing the issue of how and why excess or obsolete material accumulates is equally short-sighted Only a solution such as Nexiant 8 that spans the full material lifecycle can deliver on the promise of effectively streamlining indirect materials."
Nexiant 8 is available now. For more information or to schedule a live Web demonstration, please contact Nexiant at 888-229-3695 or http://www.nexiant.com
About Nexiant
Nexiant is a leading provider of cloud-based indirect material management solutions for the industrial market. More than 1,000 industrial companies currently rely on Nexiant solutions daily to reduce their indirect material spending by as much as 20% and to drastically streamline their indirect material management processes. Nexiant is uniquely focused on integrating the end-to-end indirect material lifecycle to deliver the highest possible ROI for our customers. Nexiant's cloud-based delivery model enables customers to rapidly deploy the solution without any significant up-front IT investment.
Nexiant is a privately-held company whose investors include The Argentum Group, InnoCal Venture Capital, Inverness Graham Investments and Mission Ventures.