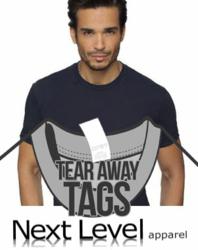 The service of Custom Tagless Care Tags has given us a leg up on the competition because most Screen Printers won't offer it.
Vista, California (PRWEB) June 19, 2013
Tagless Threads now offers Next Level Apparel T-shirts with Tear Away Tags in an effort to save consumers money.
Tagless Threads is known for their exceptional screen printing abilities but the service of printing Custom Tagless Care Tags is where their namesake derives from. The service involves removing the original care tag, sewing the seam, and screen printing the customers Custom Tagless Care Tags on the inside neck of the T-shirt.
Without a doubt, the T shirt is the single most popular piece of clothing within the USA. It has become a popular choice due to its inherent advantages of simplicity and design with the ability to imprint almost any form of design on to the garment. Popularity of a product and service also brings competition that Tagless Threads has been aware of since day one.
"The service of Custom Tagless Care Tags has given us a leg up on the competition because most Screen Printers won't offer it. The service involves a great amount of organization, attention to detail, and the right equipment that most other screen printers would rather not deal with. We always strive to offer the most challenging services and master them." - Kurt Hummel, co-founder of Tagless Threads
One particular brand of t shirt is the Next Level Apparel t shirt which in itself is an impressive piece of clothing that offers a variety of benefits and also has a unique aesthetic appeal. It is a tee that is manufactured from a fabric, which is 100% combed cotton and is available in a variety of colors and sizes. The t shirt comes with a baby rib collar and offers a unique paper tear away tag that provides the unique benefit of seamless and simple extraction as and when required. Tagless Threads is proud to start offering the Next Level Apparel Tees with Tear Away Tags because it would eliminate the service of de-tagging the T-shirt. This not only saves the customer money, but also shortens the duration of the production time.
Established in 2005, Tagless Threads has grown to become an unrivaled provider of t shirts including Next Level Apparel with a reputation for offering outstanding quality products utilizing the latest manufacturing and printing techniques in addition to providing the custom tagless care tags which have become extremely popular. Their online presence offers the ability to access a wealth of information including superb videos highlighting the screen printing techniques used.