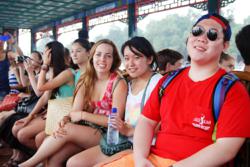 From his Beijing office, the 29-year-old entrepreneur now manages programs that range from summer study and travel to year-long university study in China programs in Beijing and Shanghai.
Miami, FL (PRWEB) September 25, 2012
Next Step China today announced that it has been named to the 2012 Empact Showcase by Empact, an organization that focuses on making entrepreneurship a viable career option for everyone around the world.
Now in its second year, the Empact Showcase recognized Next Step China's CEO Derek Capo, as being among the United States' "Top Companies Started by Young Entrepreneurs".
The Empact Showcase is a compilation companies in the United States started by entrepreneurs who are age 30 and under, and whose annual revenues or operating budgets (for non-profits) are more than $100,000.
Derek Capo, a Miami, Florida native and Florida International University alumna, founded Next Step China in 2008 to meet the needs of students and professionals who seek a professional, yet personal, experience while on their internship or study in China program. From his Beijing office, the 29-year-old entrepreneur now manages programs that range from summer study and travel to year-long university study in China programs in Beijing and Shanghai.
Capo, a first-generation Hispanic American, began a career in finance to realize a few years later that he wanted something more. His decision took him to Beijing where he studied Mandarin. There he discovered the lack of quality options for those interested in studying in China and his entrepreneurial spirit was ignited. He founded Next Step China in 2008. Capo concludes, "I feel honored to be a part of the Empact showcase and am excited about my commitment to the Empact pledge: to assist entrepreneurs from all over the world."
"The annual Empact Showcase is both a testament to the impact that entrepreneurs are making on our economy, and an inspiration to aspiring entrepreneurs," said Sarah Green, Co-Founder, Empact100. "We are proud of all of the entrepreneurs on the 2012 Empact Showcase and pleased to support them by celebrating the spirit, dedication and hard work that has made them successful entrepreneurs."
About the Empact Showcase
In early 2012, entrepreneurs meeting the minimum criteria from across the country were invited by Empact to apply for the Empact Showcase. The list was judged primarily by revenue, with additional factors such as number of employees, social impact, growth over the past year, and innovativeness coming into play. The official 2012 Empact100 list of the top companies within the Empact Showcase is the determined by the Empact100 Academy who reviewed the entrepreneurs' responses.
For more information on the Empact100 & Empact Showcase, visit http://www.empact100.com. Please direct any questions to Empact100 co-founder, Sarah Green, at list(at)iempact(dot)com
About Next Step China
Next Step China offers a comprehensive selection of study Chinese in China, internship and teach English in China programs for both students and professionals seeking to improve their skills, gain valuable experience, and obtain new opportunities to succeed. For more information, visit http://www.nextstepchina.org or connect with NSC via Facebook at http://www.facebook.com/nextstepchina. Please direct any questions to CEO, Derek Capo, at Derek(at)nextstepchina(dot)org
About Empact
Formally known as Extreme Entrepreneurship Education, Empact aims to facilitate a culture of entrepreneurship in communities around the world by exposing young people to entrepreneurship, supporting early stage entrepreneurs and celebrating the vital role young entrepreneurs play in our economy. Empact has worked with over 400 colleges & universities, workforce development organizations, Chambers of Commerce, and Small Business Development Centers to help promote entrepreneurship among aspiring entrepreneurs.
Learn more at http://www.iempact.com.