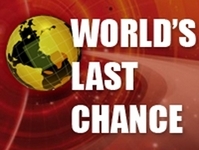 We want to make sure the world knows where we stand before it happens. It sounds ridiculous now but once it happens people will realize how accurate Bible prophecy is. The next pope will have a demonic agenda to call for Sunday Laws. These laws rebel against the Saturday Sabbath of God's eternal law
Cairo, Egypt (PRWEB) March 6, 2008
World's Last Chance adamantly foretells why Benedict will be the last human pope. The next pope will be John Paul II impersonated. The ministry believes this prophecy will bring about Universal Sunday Laws which will accelerate the final conflict immediately before Christ's Second Coming.
World's Last Chance believes it is the only ministry online that provides a Christian with all the knowledge on future events needed to prepare for the Second Coming.
The ministry does not fear the future. It believes that Bible prophecy has revealed all the main events that will happen before the Second Coming. This rapid succession of events will begin as soon as the next pope appears who will be a demon impersonating John Paul II.
World's Last Chance appears unbending in its single-minded obsession with this prophecy found in the book of Revelation, chapter seventeen. In its campaign to spread this message around the world, the ministry has produced two videos: Prophecy of the Century, and its sequel Prophecy of the Century II available on Youtube and Google Video.
"We want to make sure the world knows where we stand before it happens. It sounds ridiculous now but once it happens people will realize how accurate Bible prophecy is. The next pope will have a demonic agenda to call for Sunday Laws. These laws rebel against the Saturday Sabbath of God's eternal law," says Dahlia Doss of World's Last Chance.
For close to two years the ministry has posted a study, Next and Last Pope which is yet to be refuted. This study explains from the Bible why World's Last Chance believes the next pope will be a demon impersonating John Paul II.
"When this demon impersonating John Paul II comes -- as he surely will -- the Second Coming of Christ will be only a few years away. By visiting World's Last Chance one will be able to learn how to prepare for Christ's second coming," concludes Doss.
About World's Last Chance
World's Last Chance is an online Christian ministry that produces the most -- viewed, controversial and translated -- end-time Bible prophetic videos on the web. The website upholds sharp, provoking teachings which no one has been able to prove wrong from the Bible.
The ministry is operated by non-denominational volunteers who believe the second coming of Christ to be only a few years away and are dedicated to sharing God's last warning of mercy with the world before Christ comes.
Contact:
Dahlia Doss
World's Last Chance
0020122465878
###