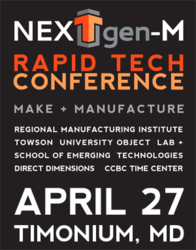 Advanced manufacturing requires rapid technologies that will define the next generation of Maryland manufacturing," said RMI President Mike Galiazzo. "We are leading that charge with representatives of business, education and government.
Baltimore, Maryland (PRWEB) April 19, 2012
The Regional Manufacturing Institute of Maryland (RMI) - in partnership with Towson University's Object Lab and School of Emerging Technologies, Direct Dimensions, and the Community College of Baltimore County's Time Center - will hold an all-day conference on rapid technologies and the next generation of manufacturing on April 27, 2012 from 7 a.m. until 4:00 p.m. at the Crowne Plaza Hotel in Timonium, MD.
The program, titled NEXTgen-M: Rapid Tech for Make & Manufacture, will bring together the experts - manufacturers, educators, government officials, entrepreneurs, and techies - in several panel discussions on the future of rapid tech in the Baltimore region.
What is rapid tech? How are technologies like 3D imaging and modeling, 3D printing, laser cutting and CNC milling being applied in the medical, manufacturing, military and forensic industries? Through national and local speakers, exhibitors, and engaging conversations, RMI's NEXTgen-M Conference will answer these questions as well as develop a plan to "Make our Future" and encourage rapid tech in a state that is quickly becoming known as the Silicon Valley of the East.
"Advanced manufacturing requires rapid technologies that will define the next generation of Maryland manufacturing," said RMI President Mike Galiazzo. "We are leading that charge with representatives of business, education and government."
The keynote address will be given at 9 a.m. by David Burns, President and Chief Operating Officer of The ExOne Company. Burns is nationally recognized as an expert on additive manufacturing and a Trustee of the Rochester Institute of Technology in New York. "There are advances being made every day in this field," said Burns. "If you have not begun to study the possibilities, now is the time. It is likely that your competition is doing exactly that."
Other speakers will include Aris Melissaratos, former Secretary of the Maryland Department of Business and Economic Development (DBED) and current Senior Advisor to the President for Enterprise Development at Johns Hopkins University; Jason Berns, Director of Open Innovation at Under Armour, the Baltimore-based and internationally known manufacturer of hi-tech sportswear; Bryan Sivak, Chief Innovation Officer for the State of Maryland; Mark Schlein, Director of the U.S. Army's CBRNE (Chemical, Biological, Radiological, Nuclear, and Explosives) facility at Aberdeen Proving Ground; Dr. Stephen Rouse, Director of the Walter Reed Army Medical Center's 3D Medical Applications Center, and Drew Greenblatt, President of Marlin Steel Wire and member, Board of Directors, National Association of Manufacturers (NAM).
For a full list of speakers, visit http://www.rmiofmaryland.com.
"This event is bringing together an impressive constellation of leaders and learners to plan how rapid tech will define manufacturing and design in the Baltimore region," said Galiazzo.
Panel discussions will take place throughout the day, with topics including "How Rapid Technologies are Changing our World and Work," "Emerging Trends and Rapid Tech in the Baltimore Region" and "Rapid Technologies and our Future." The final panel will be a community conversation entitled "Where do we go from here?" and will give attendees the opportunity to share their opinions. A full agenda is available on RMI's website.
The cost to attend this unique event is $55 per person and includes breakfast and lunch. Students may attend for free. The cost for an exhibit table is $250 (includes breakfast and lunch for two) and allows you to position your company in front of Baltimore's brightest innovators and entrepreneurs. Registration is available at http://www.rmiofmaryland.com.
About RMI of Maryland
Founded in 1990, the Regional Manufacturing Institute (RMI), a non-profit association, was created for manufacturers in the Baltimore Metropolitan area. Today, RMI of Maryland represents the interests of manufacturers statewide – providing programs, services, and advocacy. For over 20 years RMI has provided hands-on help to manufacturers by serving workforce needs through its collaborative relationship with community colleges and relevant government agencies and connecting manufacturers with private, state, and federal resources to help manufacturers export their products globally.
RMI also connects smaller manufacturers to larger manufactures to provide learning models on lean practices, exporting, green manufacturing and Next Generation Manufacturing, and helps educate senior policy-makers on the importance of manufacturing to Maryland's economy to ensure that adequate resources and attention are devoted to manufacturing.