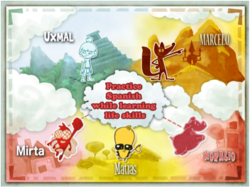 Children will have an opportunity to learn and practice a new language while discovering life skills
Madrid, April 23, 2013 (PRWEB) April 24, 2013
Entertainment content developer Next Stage Productions announced the dual language English/Spanish cross-platform release of Premium Brainy Fables apps as well as the release of improved Lite versions.
Brainy Fables is the first series of apps for kids aged 4-7 aimed at developing children's creative thinking through storytelling, games and karaoke songs.
Five (5) Brainy Fables' characters will guide children through the world of life skills and abilities such as: creative thinking, reaching "to the stars", believing in yourself, problem solving, overcoming fear, capacity to take action and trying one's best.
By reading, playing, singing, and talking about the challenges of Marcelo, Mirta and all the great Brainy Fables characters, children will have an opportunity to learn and practice English/Spanish language while discovering valuable lessons.
Each Premium app includes an interactive fable, two mini games and an original karaoke song and video with our Brainy Fables' friends as the leading characters. Each of those elements will help parents and teachers bring positive messages into story time in a fun environment. "Night time, we are tired and we want our children to go to bed", says author Franco Soldi, "but, what better way to do so than by having a nice and enriching conversation with our children with the help of one of our Brainy characters?"
Brainy Fables' adventures have been lived up with music specifically created for each character. Rock, pop, country, salsa fusion or ethnic pop music is the vehicle for children to enjoy and learn in an entertaining atmosphere.
Every fable offers charming illustrations, animation and various features that enhance the reading experience - narrated or read myself options, hidden sounds and interactions, a summary of the story's lesson, coloring pages, the ability for children to write and save their own ending to the story and a page for parents & teachers to help discuss the story's message for children.
Brainy Fables are available in the iTunes Store and in Google Play and include Horacio the piglet, Mirta the super fly, Uxmal and the pyramid challenge, Marcelo the fox and Matias the rebellious chick.
ABOUT THE AUTHOR AND NEXT STAGE PRODUCTIONS:
Author Franco Soldi is a father, creator and communications expert who has focused much of his career on empowerment of youth and bringing ideas to life. As a founding partner at YPD Group and Next Stage, Franco Soldi works to create educational content for teens and children of the 21st century. Next Stage Productions is the developer of the Brainy Fables series and a growing slate of other upcoming entertainment properties.
For more information on current apps, visit http://www.brainyfables.com.