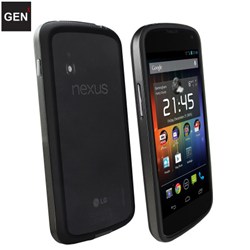 Mobile Fun have come to the aid of those struggling to find the official Asus Nexus 4 bumper, with the GENx Hybrid Bumper.
Birmingham, West Midlands (PRWEB UK) 29 January 2013
Mobile Fun, the UK's leading online retailer of mobile phone accessories are helping to ease the pain of those struggling to find the official bumper for the Google Nexus 4. Available today the GENx Hybrid Bumper Case is a great alternative to the official bumper, offering just as much protection.
Manufactured from shock absorbing TPU and polycarbonate materials, the GENx Hybrid Bumper Case ensures that both the sides and corners of the Google Nexus 4 are fully protected from daily damage, bumps and scratches. Whilst the TPU hides scrapes and scratches, the polycarbonate adds strength and rigidity to bumper, making it feeling stable and secure.
Ergonomically deigned, the GENx is one of the best Nexus 4 cases for both style and fit in the hand. This is thanks to the smooth contours of the case which make holding the smartphone more comfortable and also the slightly textured surface which adds grip so that those butterfingers moments are less likely to happen.
Using a bumper rather than a bulky cover ensures that only a tiny amount of bulk is added to the Nexus 4, 4mm in the case of the GENx bumper. This is because the back of the smartphone isn't covered, so the natural beauty of the smartphone can shine through whilst the most vulnerable parts are protected.
The GENx Bumper Case ensures that all the ports and features of the Nexus 4 remain fully accessible and functional, so that accessories can be used with the Nexus 4 whilst it's housed in the bumper.
Perfect for those who are either struggling to find the official bumper and those who want protection without the use of Nexus 4 covers, the GENx Hybrid Bumper Case is available from Mobile Fun today.
-ENDS-
About Mobile Fun
Birmingham based MobileFun.co.uk is the UK's biggest online retailer of mobile phone accessories, sim free phones, tablet accessories and e-reader accessories.
Mobile Fun has offices in the UK, Germany, Spain and France and delivers products to over 50 countries worldwide
Mobile Fun were recently named the 'Best Accessory Retailer' 2012 at the What Mobile Awards and won the title of Online Retailer of the Year' at the Mobile News Awards 2012 for the second year running.