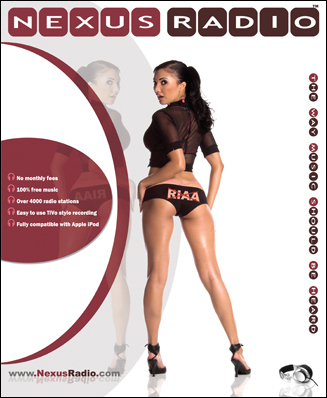 New Jersey (PRWEB) October 16, 2006
Howard Stern may be the shock jock, but even he will probably get his head spun by a rather cheeky Nexus Radio advertisement in the Oct/Nov issue of East/West Magazine. The seemingly bold and daring ad puts the Recording Industry Association of America (RIAA) in lovely new foreign territory.
Egisca Corp. (http://www.Egisca.com) -- The makers of the award winning Nexus Radio gets its message across beautifully by putting it on the rear end of a gorgeous model.
The sexy young woman sports a bikini bottom emblazoned with a playful slap across the cheek at the Recording Industry Association of America -- in the form of the letters RIAA crossed out with a big red X. And while the X is far from XXX, it is provocative enough to turn heads, especially those wearing headphones as they tune in to hip-shaking radio stations.
Egisca is quickly putting the outdated recording industry in the rear view mirror, by providing the simple and user-friendly Nexus Radio software. The new Nexus Radio boasts more stations than XM and Sirius radio combined without the associated monthly fees. The iPod compatible, TiVo style recorder lets you legally record your favorite content for later playback on a PC or portable MP3 device. Loaded with features like dynamic stream recording and automatic ID3 tag support, you can listen to and record thousands of radio stations worldwide.
While the RIAA points its finger at downloaders, files controversial lawsuits, and shakes its head in disapproval, Nexus Radio users give a nod to East-West relations by shaking their booties to international music without borders or restrictions.
When people from all over the world sing along to the same broadcast, it may be upsetting to the older generation of recording industry executives, but it does wonders for global harmony. And judging from Egisca advertisements, free music must contribute to a super healthy bottom line for end-user consumers.
For more information or media interviews, please contact:
Egisca Corporation
Five Greentree Centre, Suite 104
Marlton, New Jersey 08053 USA
Phone: 1-800-720-0153 (Within the U.S.)
Phone: 1-856-504-8259 (Outside the U.S.)
Fax: 1-856-504-8258
Website: http://www.Egisca.com
# # #