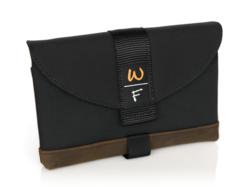 "WaterField Designs offers our customers choices so that they can find a unique Nexus 7 case that feels just right for their use and style."
San Francisco, CA (PRWEB) July 25, 2012
WaterField Designs, a leading San Francisco manufacturer of custom-fitted laptop sleeves, bags and cases for digital gear, announces new Google Nexus 7 Android Tablet cases. With demand currently outstripping supply of the Nexus 7, users awaiting delivery can order and receive a protective case in time for the tablet's arrival.
Custom-fitted Google Nexus 7 cases include: the Ultimate SleeveCase, the Smart Case, the Slip Case, the Suede Jacket, and the Travel Express. Each Nexus 7 Case offers unique functionality, protection and style.
"With the Google Nexus 7 flying off shelves and the 16GB version delayed, many eager early adopters are in search of a way to protect the tablet that meets their individual needs," explained WaterField Designs owner, Gary Waterfield. "We offer our customers choices so that they can find a unique case that feels just right for their use and style."
Nexus 7 Ultimate SleeveCase: A water-resistant, ballistic nylon shell envelops shock-absorbing neoprene, for ultimate protection. A screen-protecting plastic insert keeps the exposed screen safe from damage. Choice of trim color and optional d-rings and strap. TSA-friendly.
Nexus 7 Smart Case: Multi-layered padding includes an Ultrasuede®, scratch-free liner that helps to keep the screen clean of fingerprints and smudges; an impact-resistant, screen-protecting insert; and a water-resistant, nylon exterior. Bottom tab helps ease tablet out. Six color choices and thin, brown, leather sides. TSA-friendly.
Nexus 7 Slip Case: Thin but plush, padded interior and a screen-protecting, impact-resistant insert. Bottom tab helps ease tablet out. Six vibrant color choices.
Nexus 7 Suede Jacket: Snug-fitting, scratch-free, TSA-friendly Ultrasuede® sleeve for the Nexus 7 Tablet. Small pull-tabs ease tablet in/out. Can double as a screen-cleaner.
Nexus 7 Travel Express: This ultimate grab-and-go Google Nexus 7 Tablet case fits the new tablet plus accessories. Features: Scratch-free interior pockets; foam lining; an impact-resistant, screen-protecting, plastic insert; lightweight; optional D-rings and strap.
Pricing & Availability
Ultimate SleeveCase: $59 (+ optional add-ons). Black with grey checkered Indium™ or brown, leather trim. Available now.
Smart Case: $59. Colors: black, copper, flame, green, pearl, pine. Ships by 8/17/12.
Slip Case: $29. Colors: black, blue, brown, green, red, silver. Ships by 8/17/12.
Suede Jacket: $19. With optional pocket: $25. Black Ultrasuede®. Available now.
Travel Express: $59 (+ optional add-ons). Black plus bold stripe in: black, copper, flame, green, pearl, pine, or brown leather. Available now.
About WaterField Designs
WaterField Designs manufactures custom-fitted, high-quality cases and bags for a full-range of laptop computers, cameras, and other digital gear. All products are manufactured to exacting standards entirely in San Francisco. More at About Us on the company website.