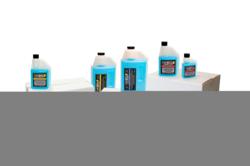 Finding the right bottle to make us more user-friendly for ladies has been a top priority
Myrtle Beach, SC (PRWEB) June 28, 2013
Nexus Fuel Products rolled out is line of fuel catalysts in phases beginning in 2007. The product line was initially available in 16 ounce and 1 gallon containers. The company has added an 8 ounce option and replaced the 1 gallon container with a 64 ounce container.
"Convenient and proper dosing (1 ounce to 10 gallons) of the product has been the challenge," said Steve Sassi, spokesman for the company. "Finding the right bottle to make us user-friendly for the ladies has been a priority and now we have it. All three of our container sizes have dosing cups as an integral part of the bottle and dosing is simple, easy, and clean "
The company added an 8 ounce price point to help with the recent economic pressures and replaced the 1 gallon container with a 64 ounce offering. "This new 64 (ounce container) is perfect for truckers and now has a dosing cup just like our 8 and 16 ounce bottles,"said Sassi.
Nexus Fuel Products offers its line of fuel catalysts for all diesel and gasoline engines. For more information go to their website at http://nexusfuelproducts.com.