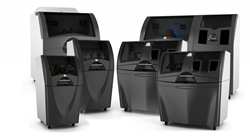 Our goal is to strengthen the engineer community by providing everyone access to top-quality systems and prototyping solutions to shorten the cycle of time between design and production. - David Pecoraro, CEO
Eden Prairie, Minnesota (PRWEB) July 05, 2014
With 3D Printing on track to grow by over $3.7B in 2015, Nexxt Technologies is on track to gain market share in key areas of American innovation and growth. 3D printing has become a hot discussion and buzzword in the technology space after the Consumer Electronics Association doubled space for 3D printing and prototyping for the 2015 Consumer Electronics Expo and the White House held a maker event in June 2014.
Budding partnerships turned into smart strategies as David Pecoraro, CEO of Nexxt Technologies described the process in selecting which satellite offices Nexxt Technologies would open.
"Both North Dakota and Nebraska were key to our growth, for a multitude of reasons. With their growing centers of manufacturing, we recognized that the design community in North Dakota and Nebraska was wholly underserved. Our goal is to strengthen the engineer community by providing everyone access to top-quality systems and prototyping solutions to shorten the cycle of time between design and production. We're developing the present and the future of professional manufacturing technologies." - David Pecoraro, Nexxt Technologies, CEO
The excitement has been contagious through Fargo. Jake Clark and John Schneider had already been utilizing Nexxt Technologies for industry best practices and growth opportunities. Strategically, the partnership and satellite office made sense, simply because of the growth of industry and innovation experienced in North Dakota.
"When we first considered a partnership with Nexxt Technologies, we knew the potential impact our collective presence could have in North Dakota; strengthening infrastructure and creating more job opportunities. We can't wait to see what will happen." - Jake Clark and John Schneider, Fargo3DPrinting, Nexxt Technologies Partner- North Dakota
Nebraska's partnership also is proving to be fruitful, allowing Forge55, Inc. to offer services and solutions within a larger regional area and with the trusted reputation of Nexxt Technologies' 3D Systems distribution.
"With Nebraska's recent growth and innovation, it's been an exciting process to redefine where our business is heading with Nexxt Technologies' support." - Dick Longoria, Forge55 Inc., Next Technologies Partner- Nebraska
About Nexxt Technologies:
Using the latest in 3D printing technology, Nexxt Technologies is a rapidly growing reseller of 3D System's printers. With expanding markets in Minnesota, North Dakota and Nebraska, Nexxt Technologies is poised to meet the expansion and growth predicted for the 3D printing industry. As a key player in the 3D printing space, Nexxt Technologies offers 3D printing systems, supplies, maintenance and service, as well as production quality prototyping. Find out more at: http://www.nexxttech.com.