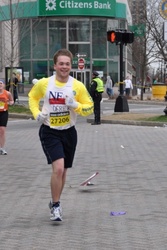 We try not to think about 'worst-case' scenarios and try to live in the moment
Atlanta, GA (PRWEB) March 17, 2011
Derek Brown is set to win again as he takes on the Publix Georgia Marathon, his 13th marathon so far on behalf of his 19 year-old brother, Austin who lives with Neurofibromatosis (NF). Austin, who was diagnosed at age three is Derek's motivation to continue competing until he has finished a marathon in all 50 states. So far, he has completed thirteen marathons in eleven states. Brown says he wins every marathon he competes in when he has the opportunity to raise funds and educate others about NF. Additionally, Derek says his family has their own outlook on this genetic disorder.
"We try not to think about 'worst-case' scenarios and try to live in the moment. If more serious issues come from it, we will cross those bridges, as a family, when we come to it. Thus, NF doesn't impact my life in a negative way, but rather works as an inspirational reason to keep 'running' and actively work towards a cure," says Brown.
While you may not have heard of Neurofibromatosis (NF), it is one of the most common genetic disorders in the United States. It affects more people than Muscular Dys¬trophy, Tay-Sachs and Huntington's disease combined and is estimated to occur in 1 of 2,500 births.
Neurofibromatosis (NF) is a genetic disorder of the nervous system which causes tumors to form on the nerves anywhere in the body at any time. This progressive disorder affects all races, all ethnic groups and both sexes equally. Neurofibromatosis can cause tumors to grow on the nerves anywhere at any time.
It also can cause learning disabilities, seizures, cancer, bone deformities, hearing loss, blindness, ADD, high blood pressure and much more. NF research ben¬efits anyone with these problems whether they have NF or not. In fact, NF research has led us to new discoveries in NF as well as many forms of cancer, learning disabilities and more. NF has three genetically distinct forms: NF-1, NF-2 and Schwannomatosis.
National Executive Director of NF, Inc., Kim Bischoff says NF tumors are caused by the tumor suppressor protein, known as RAS, a cellular pathway found in every human. In the case of those with of NF the RAS pathway does not know when to turn off.
"With the amount of rare illnesses, diseases and genetic disorders doctors learn in school, NF is just one in a multitude of medical diagnoses they review. As NF is not as well-known as many other genetic disorders, there are still incidents where pediatricians may not diagnose a person with NF. Another reason those with NF may go undiagnosed is one of the main reasons NF Inc exists today. We feel if we can help educate the public, including medical professionals about the clinical manifestations of NF, we can help make this disorder more widely known and understood," says Bischoff.
Although Brown cannot remember exactly when he decided to commit to running a marathon in all 50 states, he says he can remember why.
"After my 3rd or 4th marathon, I thought this would be a wonderful experience for me as I would be able to travel the country, while spreading the word about NF and also challenging myself physically and mentally," says Brown. And after the Publix Georgia Marathon, Brown will keep in step with his commitment to run in 39 more marathons, all in support of his brother and NF.
Neurofibromatosis Incorporated
Neurofibromatosis (NF) Inc., established in 1990, is the leading organization supporting the education, awareness and research through advocacy to help find a cure for NF.
You can find more information about Neurofibromatosis, Inc. at http://www.nfnetwork.org, NF Inc.'s Facebook page - http://www.facebook.com/pages/Neurofibromatosis-Inc/9766902412 or by calling the office 630-627-1115.
###