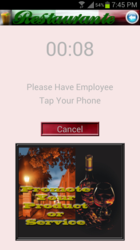 It's about time our smart phones started making not only our virtual lives better, but also our real lives.
Miami, Florida (PRWEB) August 08, 2012
Narian Technologies, the global innovator in Near Field Communication, is launching the next generation in Customer Service. It's called NFC Paging and the thousands of consumers who have tried it, want it in every store or restaurant they go to from now on.
Its Checks and Balances for Customer Service, in the Real World.
Just two steps.
Step 1: Tap an NFC phone to a Narian enabled NFC Tag. (10's of millions of NFC phones, in consumer pockets, today)
Step 2: The Employee is paged, and must Tap their NFC ID Badge to a customers phone. Confirming to management they got to the customer fast.
Everyone has been there. On average, people lose as much as 1 hour per day, just waiting for service or trying to find it, in every type or store or restaurant. Businesses lose $2 Trillion in lost sales, every year, due to poor customer service. Now, it's easy for both consumers and management to make sure that employees get to customers.
The first 500 Retailers and Restaurants to start using Narian's Patented NFC Paging Technology, get the service Free, for Life.
The system takes 30 seconds to get started, and costs nothing to try.
It includes many unique features like:

Instatap technology, which allows consumers to start using it in store or restaurant, out of the box, with no complex install or instruction.
Retailers and Restaurants can be up and running, in minutes.
Incorporates the smartest and most powerful advertising and marketing capabilities of any mobile technology, yet.
No technical skills required, No complex hardware or software, and No change to current employee workflow.
One Step NFC Tag Writer Application, available Free. Works with the majority of NFC Tags.
Employees securely access request notifications via choice of browser, tablet app, text message, email, voice, and more.
The whole consumer experience looks and feels like that business, from start to finish.
"NFC is here today, but most people don't even know it. The reason people don't, is because it's pushed as either a mobile payment technology, or a novelty for hobbyists. The reality is that NFC is the fastest growing, and most powerful technology today. Narian realized years ago, that NFC could make lives better, in a completely new and revolutionary way. To be frank, customer service sucks today, and takes too long. Whether consumers are trying to get service at a restaurant, or find help in a store. The simple fact is that everyone has experienced a lack of quality, when it comes to service. Now not all service is bad. But all consumers have experienced good service, and bad service. What Narian wants to do, is give businesses and consumers, a smart and intuitive technology, that's designed to not solve the service dilemma, but at least make it a lot better. It's the real world, so even technology can't make service perfect, but it can dramatically improve it today, with Narian's NFC Paging technology."
Einhar Rosenberg, CEO of Narian Technologies.
Try it Free, by going to http://www.NFCPaging.com. Consumers just need to see the NFC Logo, and if it's a Narian Enabled NFC Tag, everything is automatic. Works on the majority of leading phones out today, including the Samsung Galaxy S III, HTC One X / EVO, and dozens of other phones. Running on networks from AT&T, Verizon Wireless, Sprint, and T-Mobile.
Android Play Market – https://play.google.com/store/apps/details?id=narian.nfcpaging
About Narian Technologies
Narian Technologies has been the global leader in NFC Mobile Retail Applications and Services for over a decade. Narian has multiple patents and patents pending for hardware, software, and network technologies based on NFC and Mobile. Narian's focus, is to create real world value mobile applications and services, for retailers and consumers.
For more information please visit http://www.NFCPaging.com.
About Near Field Communications
Near field communication (NFC) is a revolutionary new technology, now found in 10's of millions of phones today. Many are now familiarizing themselves of NFC's boundless capabilities, including Mobile Payment via Google Wallet and Isis Wallet, Mobile Ticketing, Mobile Access Control via HID, Samsung S Beam, Bluetooth and Wifi Pairing, as well as NFC Tag reading via Interactive Product labeling and Smart Posters. But that's just the tip of the iceberg. NFC possibilities are limitless, and Narian's NFC4ALL Platform, gives the power of NFC to the People.