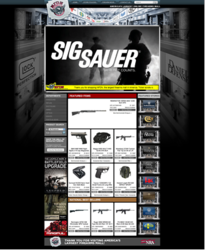 Scottsdale, AZ (PRWEB) February 07, 2013
The National Firearms Dealer Network (NFDN) has made remarkable progress increasing its membership base. Our Network of independent firearms dealers exceeds 450 members since starting last year in May. New features for dealers to leverage include an ordering system which allows store managers to easily search our distributor's inventories and purchase merchandise within the NFDN console. This new function will also help dramatically reduce instances of out-of-stock items being sold.
The online presence of NFDN is increasing with each day. Last month NFDN had over 15.5 million pages viewed, 906,000 unique visitors, and 1.56 million total visitors. Our average visitor spent over 10 minutes shopping the NFDN and viewed about 10 pages of products.
Internally NFDN has grown to a staff of 20 in addition to several promotions. Mike Chapes has been promoted to National Account manager leading his new team to train dealers to use the robust tools NFDN provides. John Scott has been promoted from Social Media Manager to the National Sales Manager. Additionally, Chad Seaverns has been promoted to the Vice President of Marketing and Sales.
National Firearms Dealers Network is a full service e-commerce solution for firearms dealers across the country. NFDN focuses on bringing manufacturer advertising and distributor inventory to the dealer's website to give their customers the best online shopping experience available in the market.
Dealers interested in joining the National Firearms Dealer Network can go to http://www.nfdmall.com/sales for more information.