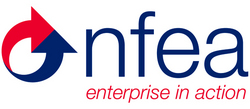 The objective of the NFEA National Enterprise Awards is to recognise outstanding achievement amongst our members and also to showcase successful projects and programmes that we can all learn from.
London, UK (PRWeb UK) September 22, 2010
NFEA – the national enterprise network - is pleased to announce the winners of the fourth annual National Enterprise Awards – recognised at a dedicated ceremony at the Barclays' sponsored NFEA Annual Conference, last week. The winners of five categories were announced during the gala dinner at The Belfry in Nottingham – awards for Innovation, Small Agency of the Year, Green Agency of the Year, best Women's Programme and Unsung Hero, as well as two Chairman's awards and a special acknowledgement from Barclays.
Developed by NFEA, the National Enterprise Awards launched in 2007 to support and celebrate the achievements of the NFEA network of enterprise support organisations. The awards recognise excellence in the delivery of enterprise support by encouraging the exchange of good practice and the development of improved services and organisations.
The National Enterprise Award for Innovation recognised new and different examples of good practice in enterprise support, improving the service to clients and ultimately contributing to the greater sustainability of the organisation. The winner was Wenta, with the My Incubator project. A well branded virtual incubator with over 200 clients, My Incubator offers a comprehensive package of support and has been rolled out across a number of locations.
The National Enterprise Award for Small Agency of the Year was an extremely competitive category. Also called 'Punching above Your Weight', the judges were looking for exactly that; organisations with a turnover up to £250,000 that have a big impact on their local communities, despite their smaller size. The award went to BRAVE Enterprise. Operating from the heart of the inner city in Bristol, BRAVE has managed in recent years to maintain a full service to their community whilst managing a substantial reduction in public funding. A leading deliverer of the Barclays Lets Talk seminars and they also co-ordinate Global Entrepreneurship Week in their area.
Cumbria Rural Enterprise Agency was presented with the National Enterprise Award for Green Agency of the Year, a category recognising agencies which champion sustainability across their own operations and provide appropriate support to their clients. CREA took the award for its dedicated environmental business support service, the Cumbria Business Environment Network, which has been operating since 2006.
Applications received for the National Enterprise Award for Women's Enterprise Programme highlighted how NFEA enterprise support organisations are developing tailored support services to different market segments. The award was given to NWES, a Prowess flagship agency, who provide a Women's Enterprise Coaching service and an annual conference, the last of which was attended by over 150 women. The programme has reached nearly 1000 women to date and was a worthy winner of this award, which was supported by Prowess.
The National Enterprise Award for Unsung Hero acknowledged the vital input of an individual who is less visible but has gone beyond the call of duty and is a shining example of how to be enterprising. The award winner was Kaleb Hailu, Project Manager for GLE oneLondon. As well as managing the admin team, Kaleb is generally first point of contact for clients - often confused or in distress, and pointing them in the right direction. He lives by the highest standards and is prepared to work early and late to achieve them. As a result GLE oneLondon achieved one of the highest Customer First assessments. Kaleb was chosen for his approach to life, which is encapsulated by the phrase "no problem", for the empathy and support he offers to both colleagues and clients.
This year, Conference delegates at the gala dinner saw two additional Chairman's awards, recognising individuals who have made an outstanding contribution to NFEA and the network. With many potential candidates, Dawn Whiteley, NFEA Chair 2008 – 2010 had an exceptionally difficult job to pick just two. The first went to some-one outside our organisation – but a friend and a colleague to many over a number of years. A National Enterprise Chairman's Award went to Dr Richard Roberts, Barclays Business's Head of Research. Richard was responsible for the original tracking survey which established the added value client's gain from taking advice from an enterprise agency, as well as work underpinning Barclay's community programme.
The second National Enterprise Chairman's Award was given to Operations Executive of BBV, and current Chair of Prowess, Sylvia Philips. Somewhat of an unsung hero as well, Sylvia runs her agency's enterprise programmes on a day to day basis, over a wide territory and wide range of activities. She heads liaison with the RDA for which she is Women's Enterprise ambassador, and takes on a prominent national volunteer role with a colleague organisation.
The ceremony also included an award for the Barclay's Let's Talk programme – business start up seminars run by NFEA Members across the country. The Barclay's Let's Talk Contractor of the Year was announced as Harrow Enterprise Agency for its exceptional delivery of the programme over the contracted targets and for thorough administration throughout the year.
George Derbyshire, NFEA Chief Executive, said: "The objective of the NFEA National Enterprise Awards is to recognise outstanding achievement amongst our members and also to showcase successful projects and programmes that we can all learn from. As a judge, I am delighted to confirm that the quality of entries was higher than ever this year and I am sure the success of the award winners will encourage other members to emulate their example of innovation and proactivity."
The National Enterprise Awards ceremony was hosted by snooker star Willie Thorne at the Barclays sponsored 2010 NFEA Annual Conference gala dinner. Each National Enterprise Award winner was presented with an engraved trophy and a bottle of champagne.
For further information or comment on the National Enterprise Awards or the 2010 winners, please contact Daniel Locke, NFEA Communications Editor on daniel(dot)locke(at)nfea(dot)com or 01234 831623. A full shortlist for each category is available from http://www.nfea.com/awards
PHOTO AVAILABLE ON REQUEST
Editors Notes:
About NFEA
NFEA is the national enterprise network. Its members, drawn from local enterprise agencies and a wider range of enterprise support organisations, provide an array of services to new and emerging businesses including independent and impartial advice, training and mentoring. http://www.nfea.com
About Barclays Local Business
Barclays Local Business provides great value to its customers by offering services and a comprehensive range of tailored business banking products to more than 600,000 businesses typically with a turn over less than £1 million. http://www.barclays.co.uk/business
# # #