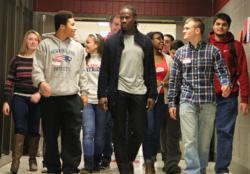 Boston, MA (PRWEB) November 29, 2012
Brandon Lloyd, All-Pro NFL wide receiver for the New England Patriots, brought his passion for helping today's youth to Lowell High School in Massachusetts. Lloyds helped encourage students to work hard, follow their passions and continue to learn about personal finance topics. His goal is to help them live the rewarding and fulfilling lifestyle.
Lloyd's day started with a meeting with school to learn more about the students and some of the financial challenges that they are faced with. He met with students for a school assembly and that was followed by meeting a smaller group to get to chat on a more personal level. The day was capped off with a special lunch made for him by the culinary class.
During his presentation Mr. Brandon Lloyd discuss how passion and charisma drives you to excel in practice and at game time. He encouraged them to find those things they are passionate about and invest their time and energy into them. Lloyd also discussed the importance of being a hard worker and how this quality personally helped him during his career. Finally he wrapped it up with encouraging the high school students to take action on their future.
"Brandon Lloyd is a great example of the Money XLive lifestyle - charisma, dedication and not afraid to take risks on and off the field. His love for life and others is contagious and we are proud of his commitment to our youth," states Chad Penry, Co-Founder of Money XLive and the NFEC's Strategic Relationship Director.
Lloyds past reflects his commitment to excellence and he imparted this knowledge to the students. He went to school at Blue Springs High School in Blue Springs, Missouri where he was a letterman in football, basketball and track. In 1999, Lloyd attended the University of Illinois and had an exceptional career becoming a First-Team All-Big Ten and helping lead the Illini to a 10-2 record and a BCS berth in the Sugar Bowl. He finished his college career having the second most receiving yards (2,583) and touchdown catches (21) in Illinois history and ranking third in all-time receptions. Visit Brandon Lloyds website and Twitter feed @mrblloyd.
The larger assembly was opened by Anne-Marie Bisson, Assistant Vice President of Financial Education for Jeanne D'Arc Credit Union. She taught money management lessons from the Money XLive multimedia curriculum. This video-based curriculum features educational and motivational lessons delivered by top athletes, celebrities and positive role-models. Bisson is a recent graduate of the NFEC's Certified Financial Education Instructor professional development program.
The National Financial Educators Council's Money XLive Community Ambassador program supports the monetary skill development of people across the country. The financial education programs, tools and material created by the NFEC provide people the knowledge and confidence to take effective action towards their financial future. Combined with the awareness initiative that brings positive celebrity role models to the financial education movement, the NFEC plans to reach millions across the country with the message of financial literacy.