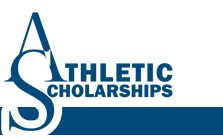 (PRWEB) May 13, 2012
AthleticScholarships.com, a premiere college sports scholarship and recruitment statistics website, has analyzed the 2012 NFL draft and published reports on top picks. The report focuses on analysis of the high school stats of first round line backer picks, of which there were four in 2012: Luke Kuechly (9), Bruce Irvin (15), Shea McClellin (19) and Dont'a Hightower (25).
The report's analysis compares these college athletes' high school stats with the stats that have been recognized as ideal for Division I line backer recruits.
Division I Football Recruitment Stats for Top Level Line Backers

Height - 6'1"
Weight - 220
40 Yard Dash - 4.6
Bench - 315
Squat - 445
The information used to develop these recruitment stats was provided by college football coaches and recruiters, college rosters and hundreds of recruited high school athletes across the nation. These stats are approximate. High school athletes that meet one or two of the above are likely to generate interest among recruiters.
Senior High School Stats of the Top Line Backer NFL Draft Picks 2012
Luke Kuechly

Position: Line Backer
Height: 6'3"
Weight: 220
40 Yard Dash: 4.7
Tackles: 130
Sacks: 1
Forced Fumbles: 1,547
Two Fumble Recoveries: 21
Interceptions: 1
Bruce Irvin

Position: Line Backer
Height: 6'3"
Weight: 245
40 Yard Dash: 4.5
Tackles: 72
Sacks: 16
Forced Fumbles: 3
Touchdown on Fumble: 1
Shea McClellin

Position: Line Backer
Height: 6'3"
Weight: 260
40 Yard Dash: 4.81
Tackles: 126
Interceptions: 6
Defensive Touchdowns: 7
Dont'a Hightower

Position: Line Backer
Height: 6'3"
Weight: 248
40 Yard Dash: 4.7
Tackles: 168
Forced Fumbles: 5
Fumble Recoveries: 4
Interceptions: 5
To get more information on football college scholarships and recruiting as well as athletic scholarship statistics in states, divisions and schools across the country, please visit: AthleticScholarships.com
About AthleticScholarships.com
AthleticScholarships.com is a leading provider of college athletic scholarship statistics and recruitment information. The organization helps student athletes identify opportunities and make connections with recruiters across the country by gathering stats on a wide variety of men's and women's sports and delivering the information in an easily searchable format that allows users to search by sport, state, division and school.