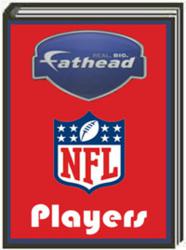 We will be offering NFL Fatheads at a special introductory price to get your football decorating started off on the right foot.
Chattanooga, TN (PRWEB) September 06, 2012
Internet Wholesaler, Inc. announces today that they are now carrying a selection of appliqué decals of your favorite NFL players and teams from Fatheads. Fatheads are high quality, life-size, officially licensed wall graphics. These large, remarkably detailed images will stick on any smooth, dry surface. They are removable and reusable and completely safe for walls. They are bigger, better and tougher than any poster, sticker or average decal. They are printed on vinyl and are fade-resistant. NFL Fatheads are the perfect way to get ready for the football season. They are quick and easy to install and transform an entire room in a snap.
To kick off football season, Wallpaper Wholesaler has a great selection of NFL players, team helmets, logos and stadiums available. These are great for seasonal decorating, themed parties, kid's rooms and more. Their quality and ease of use make them a terrific choice as a unique gift for any sports enthusiast! Fatheads are popular and well-known for their sturdy construction and larger-than-life personality. Sports fans and memorabilia collectors alike, will enjoy receiving a Fathead of their favorite player or team logo.
According to Bill Light, COO of Wallpaper Wholesaler, they "will be offering Fatheads at a special introductory price to get your football decorating started off on the right foot." At approximately 3 feet wide by 6-1/2 feet tall it feels like the NFL player is right there in the room! These eye-catching wall graphics become the focal point of any room and will garner the envy of friends while showing team pride.
To start the season off right, Wallpaper Wholesaler will give to a randomly chosen fan, their choice of an NFL Fathead player or a Fathead team helmet. Beginning Friday September 7, 2012 at noon, go to https://www.facebook.com/wallpaperwholesaler and "Like" the page to fill out the entry form. Once they reach 150 fans, they will randomly select a winner. Get a Fathead and get football season started!
Serving the public for over 35 years by offering the best prices on wallpaper, blinds, shades, shutters, draperies, and more. Visit the showroom in Chattanooga, TN or online anytime at http://www.wallpaperwholesaler.com.
Internet Wholesaler, Inc.
3956 Brainerd Rd
Chattanooga, TN 37411