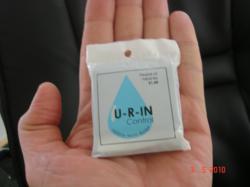 When there is no where to go, go where you are with Go Guy the pocket urinal.
Pawtucket, RI (PRWEB) September 06, 2011
People start arriving around 8 a.m. to set up the tailgate party. Many set up tents, grills, tables and chairs in preparation for the big game. Most all start with a beverage whether it be coffee, soda or beer as they plan for their tailgate event. As the morning moves forward those drinks start to settle into the bladder causing the need to relieve one self. Peeing at such an event is difficult with very few port-a-johns available. Even if a person is able to find one the lines are long and the smell is pungent. Many of the NFL rowdies take matters into their own hands, so to speak, and just pee right on the asphalt causing yellow rivers and smelly conditions when everyone is ready to eat their steaks, burgers, and chicken. Now U-R-IN Control has come up with a product named Go Guy the pocket urinal which fits in a person's pocket, glove compartment or purse for that emergency urinary relief. Go Guy is a specially designed polymer bag with a comfortable sized opening and 700ml capacity for worry free relief. It has a water tight top seal, space-aged polymer crystals for quick absorption to eliminate spills and odors and can be used for emergency bladder relief when a restroom is not around.
NFL tailgaters will be happy to see Go Guy helping all those emergency situations. Too much beer, coffee or soda no problem Go Guy is there to help anyone who has to urinate. It is so small people can carry it to the game or be ready right after the game. It has been said people have even used them while sitting in their seats because they did not want to miss a play. Not sure if this should be recommended. U-R-IN Control will be traveling around the NFL handing out these great little packets but if anyone cannot wait they are available at askgoguy.com. Over time there will be no more yellow rivers to avoid and tailgating will become a peaceful, exciting and enjoyable event for all the NFL fans.
Welcome back NFL fans. Everyone ready for some football.
###