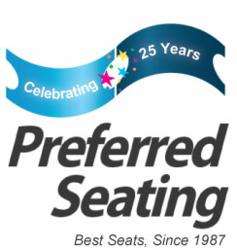 Sacramento, CA (PRWEB) August 21, 2012
So much has changed in the way the NFL is watched, run, played and enjoyed by fans across the nation. Technology, training, testing, time-outs… all so different from 25 years ago. But one thing has remained the same since 1987: Preferred Seating is still selling NFL season tickets and individual game tickets direct from season ticket holders and without any hidden fees, and they're celebrating their 25th anniversary doing so.
Preferred Seating can save fans 10% or more compared to other ticket brokers with hidden fees. The NFL resells tickets through the NFL Ticket Exchange but the majority of the tickets come from ticket brokers with season tickets. By the time the NFL adds their fees, the price is usually 20% more than at PreferredSeat.com. Preferred Seating gives ticket buyers so much more than any broker or "hub" could offer: quality of the service, easy access to live answers over the phone, and better pricing without hidden service charges.
Some teams such as the San Francisco 49ers and Super Bowl Champs New York Giants saw ticket prices go up on the secondary market this year after successful seasons last year. NFL ticket prices rise and fall with the team record but ticket prices for the biggest teams such as the Green Bay Packers, Pittsburgh Steelers, New York Giants, New England Patriots, etc., don't often drop in price at all. Sometimes they will go up if the opposing team is playing well. Preferred Seating stays apprised of these situations in order to maintain consistent pricing and availability of the best football stadium seats in the NFL.
Since 1987, Preferred Seating has been specializing in obtaining and providing football fans the best seats available; however, at the same time, they offer seating in all locations in the stadium from the 50 yard line to the end zone for all games from single seats to large groups. Stay tuned to Preferred Seating on Twitter, Facebook and Google+ for exciting news about an upcoming 25th Anniversary Celebration "super fan" contest.
Preferred Seating Tickets has been the leading supplier of NFL tickets in the Bay Area since 1987. Preferred Seating is not related to NFL teams, the NFL Ticket Exchange, or the NFL and any of its subsidiaries, but works with football season ticket holders to put fans in the best seats that otherwise may not be available to them. Football tickets are available for all of the NFL teams at PreferredSeat.com.