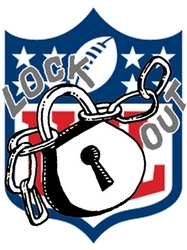 "NFL merchandise is roughly 40% of our business. A season with no football means no tailgating. No tailgating means no revenue for a big portion of our business." - Rich Spaulding, President of Gold Star Games, Inc.
West Palm Beach, FL (PRWEB) March 30, 2011
The NFL lockout continues to intrigue fans across the sports world. Now the retail arena is joining the discussion. Gold Star Games is an online retailer offering NFL licensed merchandise. The NFL lockout is causing Gold Star Games to prepare their sales forecast for losses and freeze any hiring.
The dispute between NFL owners and NFL players impacts many industries, not just television advertising or local city restaurants. Retailers selling NFL jerseys, apparel, and other NFL merchandise could see their small businesses sink in an already struggling economy.
According to The Detroit News, the owners will be paid as much as $4.5 billion in TV network revenues, even if no football is played. Even though the money would have to be paid back with interest at some point, the players union is throwing a penalty flag. This built in "lockout insurance," players say, immunizes owners in a work stoppage and gives them an unfair negotiating advantage.
The estimated annual ad revenue at stake for the 2011 season:

Fox - $975 million
NBC - $850 million
CBS - $825 million
ESPN - $175 million
Many reports talk about these giant media companies and their losing ad revenue. However, lost in the discussion are retailers and small businesses offering NFL related merchandise. Roger Goodell, NFL Commissioner, comments on the NFL labor dispute "Whether it be new stadiums, whether it be on television, whether it be on our merchandise that we offer, you have to create value in this environment. We look at every aspect of that."
As a $2.5 billion dollar industry, NFL merchandise is the lifeblood of hundreds of small businesses which connect directly with the fans. Rich Spaulding, owner of Gold Star Games which offers NFL tailgating games, is preparing for the worst. "NFL merchandise is roughly 40% of our business. A season with no football means no tailgating. No tailgating means no revenue for a big portion of our business. Smart NFL retail companies will think ahead and prepare their company for dramatic revenue loss. Our small business offers cornhole games, washer toss, target toss, and other tailgating games. In addition to the games, chairs, coolers, grills, and tailgating table sales will drop without tailgaters."
Spaulding continued, "We are trying to diversify our product line by offering more NCAA, MLB and NBA merchandise while still supporting our NFL line. It's very difficult to project sales losses with no football, but we hope to make-up 20% of those lost sales with the other sports.
The National Football League is still king in our world, but adding more baseball and college merchandise could soften the blow of a lockout. However, most small businesses have already felt the effect of a poor economy. The popularity of pro football is at an all-time high. Why ruin that achievement by taking the product away from the masses? It couldn't come at a worse time when thinking about the shaky economy right now."
Josh Wilson, a die-hard Indianapolis Colts fan living in Sarasota, Florida isn't rushing to purchase a new Peyton Manning jersey anytime soon. "I typically purchase new Colts Gear before football season starts. This year, I will hold back on purchasing anything because it's tough to support my team when they don't have an opponent."
According to Spaulding, Gold Star Games will not be hiring temporary Holiday employees if the lockout moves to a postponed NFL season. Thousands of other small business could be thinking the same. Apparel, memorabilia, and other related NFL industries could see hiring freezes or even job losses.
There is little doubt a lockout would hurt the NFL brand, ad revenue, local businesses and merchandise retailers. In the end, billion dollar owners might win their dispute, but at a cost much bigger than expected.
###