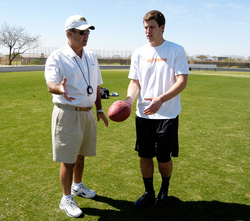 For some players this is a 'once in a lifetime' opportunity
Fountain Hills, Arizona (PRWEB) January 10, 2009
In an effort to help college kicking specialists prepare for the NFL Combine and Draft, Coach Zauner, one of the leading kicking coaches in the country, is offering specialized training designed to help specialists get signed to the NFL.
"For some players this is a 'once in a lifetime' opportunity," says Zauner, "so it is critical for kicking specialists who are either selected to go to the NFL Combine, or are eligible for the NFL Draft to be at the very top of their game."
Zauner says he has designed training programs for this purpose. Specifically, he has developed 3-4 day intensive training packages to assist specialists in refining their skills and take them to the next level.
Zauner, who was a National Football League (NFL) Special Teams coach for 13 years, coached some of the greatest kickers and punters in NFL history including 19 Pro Bowlers. He is currently a kicking consultant working with many of the premiere NFL and college kickers, punters and snappers (for additional information go to Coach Zauner's Website).
In 2008, Zauner worked with a number of college kicking specialists who were preparing for the NFL Combine and Draft. Most were signed to the NFL including Taylor Mehlhaff drafted by the New Orleans Saints, Tyler Schmidtt drafted by the Seattle Seahawks, Brett Kern signed by the Denver Broncos, Kenny DeBauche signed by the Green Bay Packers and Garrett Hartley who initially signed with the Denver Broncos but currently plays for the New Orleans Saints.
In addition to the training Zauner offers specialists, he has created an NFL Draft section on his website to highlight those players he feels truly have the potential to make the NFL. He says this section is designed to help coaches 'have a look' at players prior to the NFL Combine and Draft.
Zauner says he is looking forward to working with new college specialists to help them reach their goal of playing in the NFL.
"I started my football career as a combination kicker and punter," says Zauner, " I was signed by two teams in my first year of eligibility. And even though I didn't play in the NFL," he adds, "I did get a shot at it. It's a great feeling to achieve that goal and I'd like to help young specialists have the same opportunity."
For more information you can reach Coach Zauner at:
612.239.9529
For Coach Zauner Bio - Images - Video:
Coach Zauner Media Center
###