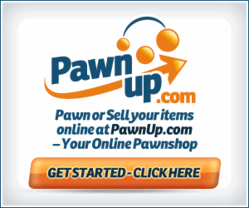 The customer service I received was outstanding!
(PRWEB) August 29, 2012
Having successfully worked with a great number of clients since their launch a year ago, PawnUp.com had a brilliant opportunity to get some feedback from Mr. Reynolds about their customer care services, ease of application process, low interest rates and competitive appraisals. Based on its clients' feedback PawnUp.com is preparing new initiatives that will increase awareness about collateralized loans online.
"I liked that it was discreet and that you only charge 5% a month, not 20 or 30% like street pawnshops do; this impressed me," Mr. Reynolds mentioned during the interview.
"After speaking with the people at PawnUp.com I was definitely comfortable with sending my item. They also insured my item and arranged for a professional appraisal," said Mr. Reynolds. "Overall, I'd say the customer service I received was outstanding" he added.
PawnUp.com online pawn shop is proud to be able to provide exceptional customer care to all of its clients, offering free shipping and insurance, free professional appraisals and friendly customer service.
About Joffrey Reynolds
Mr. Reynolds is a professional football player who has played in both the NFL (National Football League) and CFL (Canadian Football League) with many prominent achievements: four time CFL All-Star, winner of a Grey Cup with the Calgary Stampeders in 2008, Calgary Stampeders leading rusher with 9,213 rushing yards.
About PawnUp.com
PawnUp.com is the leading online pawn loans and cash-for-sale provider. It offers low interest rates (up to 5% per month), professional customer service, fast, free evaluations, free shipping and insurance, security and confidentiality.