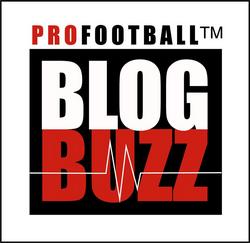 Charlotte, NC (PRWEB) October 4, 2007 -
– Sports Media Challenge announces the launch of the NFL Blog Buzz on NBCSports.com. Blog Buzz identifies and analyzes the Top 5 stories of the week on the most influential fan blogs covering the NFL.
"The NFL Blog Buzz is a great new addition to our site. It taps into extremely loyal communities of bloggers and ultimately gives NFL fans a greater voice on the issues they care about most," said Tom Seeley, Coordinating Producer of NBCSports.com. "Blogs have become the go-to resource for a new breed of influential fan who isn't afraid of stating strong opinions, asking pointed questions and taking nothing for granted. We want to engage those fans and make their voice heard on NBCSports.com"
NBCSports.com will feature the first Blog Buzz feature devoted to a single particular sport throughout the season. Buzz Manager™ a proprietary service of Sports Media Challenge already provides the top five general sports issues featured weekly in Street & Smith's SportsBusiness Journal and SportsBusiness Daily's popular Blog Hound provides hot topics of the day.
"At Sports Media Challenge we recognize that fan-generated media and blogs in particular are the quickest and most relevant way to gauge what people care most about at any given moment," said Sports Media Challenge President Kathleen Hessert. "We invested in what we believe to be a treasure trove of unbridled information provided by hard core and casual fans who are both young and old. Where the fan's voice goes, so does their wallet, which creates unprecedented power and influence." According to Hessert, "the NFL, its issues, and personalities are huge conversation catalysts that NBCSports.com has just begun to tap into and Buzz Manager is helping them do that."
NFL Blog Buzz refreshes weekly with a new Hot Top 5 released on the site each Thursday. The following lists NFL Blog Buzz's top five NFL topics of the week discussed on influential blogs from Sept. 27 to Oct. 3: http://www.NBCSports.com/NFL
1. Chicago's Quarterback Woes
2. Michael Vick's Downfall Continues
3. Patriots Domination
4. Nobody Likes Norv Turner
5. Will Ricky Williams Comeback
Buzz Manager™ identifies and ranks the hottest issues across a wide spectrum of the sports blogosphere, and is the only online word of mouth monitoring tool that focuses exclusively on tracking brands and relevant issues in the sports, entertainment and lifestyle markets via blogs, social networks, and other fan forums. Buzz Manager™ is a proprietary service of Sports Media Challenge of Charlotte, NC.
About Sports Media Challenge
Since 1988, Sports Media Challenge has helped protect and enrich the brands of leading university athletic departments, professional leagues, teams and world-class sports personalities through strategic consulting and training. Some of its clients have included, The Universities of Notre Dame, Texas, Colorado, The PGA TOUR, MLB and NBA teams, NFL MVP Peyton Manning, NASCAR's Kasey Kahne, and NBA great Shaquille O'Neal. Sports Media Challenge has become the industry leader in online word-of-mouth marketing and reputation management. For more information go to: http://www.sportsmediachallenge.com
Contact:
Harold Kaufman
Sports Media Challenge
Senior Analyst and Consultant
704-451-8938
###